Mecha
It's no surprise, I love giant robots, and if there is a genre I have seen a lot of shows from, it's giant fucking robots. Playing Super Robot Wars got me into watching a lot of shows, and there are plenty more still to watch. Here are some recommendations you should watch from this incredible genre: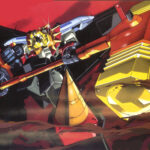 Name: GaoGaiGar (Yuusha-Oh GaoGaiGar)
Original Air Date: Feb 1, 1997 to Jan 31, 1998
Company: Sunrise
Genre: Mecha, Sci-Fi, Action, Comedy
Story TL;DR: Years after asteroids crashed into the Earth, creatures known as the Zonders emerged and began to attack Tokyo. The Gutsy Geoid Guard, a secret government organization, responds with its ultimate fighting robot, GaoGaiGar, and it's pilot, Guy Shishio, a human-turned-cyborg with powers from another mysterious force that came with the crash. Together they hope to beat the Zonders back, with the help of Mamoru, a boy with powers to purify the Zonders and restore order to the planet.
Reaction TL;DR It's classic super robot action in the most classic form, monster-a-week format, named attacks, transformation sequences, the works. But as it progresses, it gets even better and better, until you just end up shouting DIVIDING DRIVERRRRRRRRRRRRRRRRRR randomly when you're out on a date because it's that awesome. Seriously, if you call yourself a super robot fan and have no watched this, go home.

Name: Full Metal Panic!
Original Air Date: Jan 8, 2002 to Jun 18, 2002
Company: Gonzo
Genre: Mecha, School, Action, Comedy
Story TL;DR: In an alternate history where the Cold War between the US and Russia continues, Sousuke Sagara, a high-school age military specialist for the secret organization MITHRIL, has been given an assignment to protect a girl named Kaname Chidori, a Japanese high-school girl known as "The Whispered", people who contain repressed memories of top-secret information. To protect her he must assume the identity of a regular high-school boy and interact with her. The result is a purely humorous look at a hardcore military soldier's attempt at a "normal life"
Reaction TL;DR This is by far my favorite "real robot" show, if only for the cute-as-buttons Teletha "Tessa" Testarossa because that nosebleed face is just badass. But as I said, if you prefer real robots, and some do, this is your show. Lots of military hub-bub and Fumoffu is quite fun. Hoping they make more of this show in the future, they have been rumors before.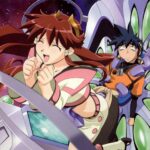 Name: Vandread
Original Air Date: Oct 3, 2000 to Dec 19, 2000
Company: Gonzo
Genre: Mecha, Sci-Fi, Action, Comedy
Story TL;DR: In the future, all of Earth's inhabitants abandon it and move to two separate planets, one for males and one for females, and continue to populate their respective planets through genetic manipulation. Tokai Hibiki lives the life of an unimportant assembly-line worker making parts for war mechs, when he uses the new warship launch as a chance to escape with a mech he "etched" himself. He winds up captured by the enemy, which turns out to be an all-female pirate vessel. Together with two other men captured, the ship suffers an accident and undergoes a change that changes everyone lives, including Hibiki's, forever.
Reaction TL;DR This show is maybe more space and spaceship related then mecha, but most /m/ folks count it among mecha lists, so I count it all the same. It's a fantastic show that puts harem on a science-fiction level with a lot of twisted shit. It's a show you really just have to sit and watch and enjoy the ride.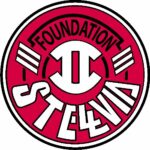 Name: Stellvia of the Universe (Uchuu no Stellvia)
Original Air Date: Apr 3, 2003 to Sep 25, 2003
Company: XEBEC
Genre: Mecha, Sci-Fi, Action, Comedy, School
Story TL;DR: In the year 2167 a supernova explosion of a star outwards of the solar system caused wide-spread damage to Earth, wiping out a large population. Fearing the "second wave" of the blast would come within the next century or two, the nations of Earth banded together and created a complex space program and technology to deflect the wave away from Earth once it approaches. Dubbed "The Great Mission" Seven "Foundations" are built all-across the solar system and students are trained to operate small spacecraft-mech units designed to assist in the mission. Katase Shima is one such student, traveling to "Stellvia" high above Earth to become a pilot.
Reaction TL;DR Oh XEBEC, you know how to steal my heart, and you did so with just Shipon, everyone else just added to it. Stellvia is a fantastic space-related show and a must-see for sci-fi fans, it's not quite mecha also, but it's enough of a premise to watch, and it really should be in my top-ten, but I chose to add it to this list to diversify the other list. I wish I could tailor my OS to look like Halcyon's.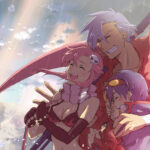 Name: Tengen Toppa Gurren Lagann
Original Air Date: Apr 1, 2007 to Sep 30, 2007
Company: Gainax
Genre: Mecha, Sci-Fi, Action, Comedy
Story TL;DR: In the future, man lives underground, toiling away at menial jobs to keep the populace going. Simon, a young boy, discovers a glowing object buried in a tunnel. Together with his friend Kamina, they use the power of the robot to help defend their colony from a Beastman attack. Afterwards they team up with Yoko, a girl with a big gun, and venture outside into the open world, only to encounter more beastmen. Together with Lagann, the robot, they attempt to explore the world beyond the colony and defend against the Beastman attacks.
Reaction TL;DR Regardless of the shitstorms this series generates on 4chan /a/ and /m/, Gurren Lagann is the kind of crazy fun you expect from Gainax, and worth watching all the same. If you've ever found yourself singing "Do the impssible see the invisible, row row FIGHT THE POWAH" you are definitely in need of mental help.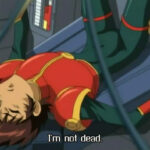 Name: Shinkon Gattai Godannar
Original Air Date: Oct 1, 2003 to Dec 24, 2003
Company: Oriental Light and Magic
Genre: Mecha, Action, Comedy, Ecchi
Story TL;DR: Earth fell under attack by an alien force known as the "Mimesis", in response, a secret organization uses the giant robot Dannar and its pilot Goh Saruwatari, to save the city. During that time he rescues Aoi Anna and five years later decides to marry her. The ceremony is interrupted by the re-emergence of the Mimesis which have returned stronger. As Goh's battle is failing, Anna discovers the robot Neo-Okusaer and decides to pilot it to save Goh. She involuntarily triggers the combination sequence that merges the two together to form Godannar. Together they must defend the city once more from alien threat.
Reaction TL;DR This show is all about two things, super robots, and tits and ass. Lots of it. So if you like fanservice in your mecha, this is what you want to be watching. That aside, it's a good show with a very old-school super robot feel to it, very episodic and very good. But DAT tits and ass though, unf.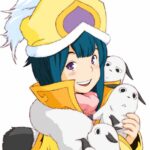 Name: Overman King Gainer
Original Air Date: Sep 7, 2002 to Mar 22, 2003
Company: Sunrise, Bandai
Genre: Mecha, Action, Comedy
Story TL;DR: In the distant future, mankind has to live in dome cities to avoid enviromental hardships outside. Professional gamer Gainer Sanga enjoyes the normal life of a normal teenager until he meets mercenary Gain Bijou. Together they commandeer an ancient relic known as an Overman and use it to help spark a mass-exodus across the Russian land to a land more fertile and untouched by the harsh conditions.
Reaction TL;DR It's a quirky show, and it's hard to sometimes tell what is going on, especially with the robots, but it's got an interesting and catchy OP and it does get much better as you get through more of it. Not my top-priority watch, but if you want to pass the time, give it a shot.