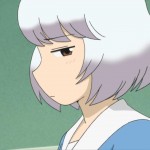 I've put seventy-five hours into Starbound since a little before this time last month. It's a little disconcerning, especially since I wanted to finish Bioshock Infinite. BUT THERE IS STILL MORE THINGS TO DIG. Fuck, now I know why I don't play Minecraft and I quit WoW many years ago.
So anime, right… suffice to say, only a handful of shows are keeping my attention this season. The rest I watch when I remember to, when I am bored, or to make fun of on Twitter (Chu2Koi, looking at you) or the blog. But, everything can't be Symphogear for me and necessitate refreshing Nyaa every five minutes and downloading RAWs.
Anyway, this week I present a POWER RANKINGS special, fifteen micro-weeklies for everything on my docket this season, ordered from best to worst. It promises to be a mostly terrible affair.
…