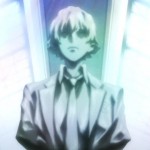 The problem with Valvrave is that it was exactly like Guilty Crown, it was this long, drawn-out, and complicated affair with poor characterization, a worn-out and reused plot from a variety of other space shows, and a penchant for being completely asinine at every TWIST and turn.
The problem with Valvrave is that compared to Guilty Crown, it actually succeeded at being good occasionally. This would be before it went to shit the next episode. So I guess that makes it more like Code Geass and less like Guilty Crown.
Only Haruto is a Shoe.
…