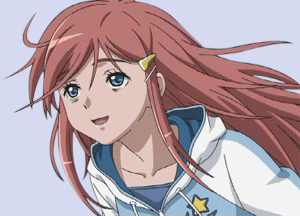 So I finally found a cheap motherboard to complete building a computer for the front room to watch animu on my TV rather than my computer, and in 720/1080 as well, so that was more than enough of a reason to spend most of today getting through the backlog of animu I've neglected over awhile. So in no particular order, let's get cracking…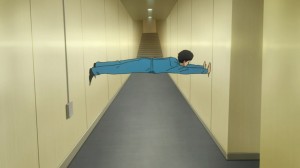 Defeating the Fire Extinguisher Bandit puts Mutta back into the running for becoming a JAXA astronaut in Space Brothers. This episode doesn't do a whole lot else other than showcase his achievement by putting him on TV for everyone in "America" to see. I continue to be amused by this show's showing of America, but it's about space, so hopefully we get off this rock pretty soon and on to some fun stuff.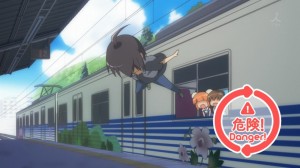 If you are watching Acchi Kocchi for its RUCKY STAR properties you are seriously missing out on The Adventures of Alpha Io, it's fantastic. You just can't deal with how manly this animu character is, he sweeps Tsumiki off her feet and doesn't care about anything. That's all I need to say about it, go watch.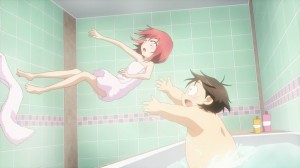 So between the last episode and now, it would seem that Haru is now Level 4, and doing significantly better in the game, but in this week's Accel World it seems the new Red King is targeting him by trying to pose as his second cousin and attacks him in the bath. It's implied he lost, but not before taking to Snow Black about it and remembering this wasn't the first Red King whom she took out long ago. Seeing as the girl is featured in the OP, my guess is that she comes around somehow to their cause, but we'll see.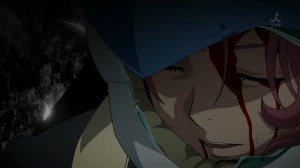 You pretty much knew Shana was a Vegan traitor from the hints they dropped, but that came full circle at the cost of her life in (last) week's Gundam AGE. Kio certainly is starting to learn just how cruel war is when her reason for becoming a spy was to be able to afford treatment for her sister. I'd like to sympathize, but that ain't exactly a stellar way to pay for such a thing. It's probably also disconcerting that in this space future, they would charge a lot of money to treat a person. Guess Gundam isn't like Star Trek. But at any rate, discussion on /m/ of course has continued to focus on how cruel Frito is forcing Kio into the war and harping on the Moe Captain. Honestly, I am just waiting for Space Pirate Asemu to enter, because that'd be more amusing at this point then this back-and-forth play between Kio and Vegans.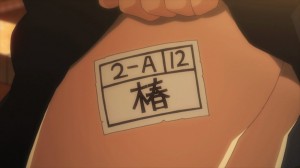 We're up to the athletic festival in (last) week's Mysterious Girl X and Urabe proves her running prowess before the captain of the track team, but turns down the invitation to join the team, but enters the athletic festival running the relay race. Oka sees this as Tsubaki wanting her "golden legs" all to himself. Unfortunately he gets sick before the race and almost misses it, if not for another Oka suggestion. The anime is pretty much following the manga closely, but that is fine by me. Animated Oka-ness. Hopefully they animate the hair tossing scene from the manga, also the bacon.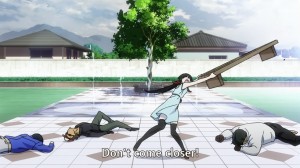 That bastard is back in this week's Sankarea, though he seems unaware of her becoming a Zombie, as she proceeded to wreck her captors, but not before they took Furuya away. I know some folks didn't find this show especially good in the beginning, but I would argue that the beginning of this show was better than the middle, as it seems like they are trying to settle into some episodic fashion they immediately shake it up. But we'll see where this goes, I'm not sure how it's going to end, but I am figuring one of three ways, either she magically comes back alive, finally dies, or lives happily ever after… as a zombie.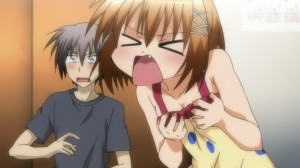 Guess who comes back in this week's KOREAN ZOMBIE CAR DESK VER. KA? Kyouko. Yep. The bitch face big-breasted serial killer returns to pick on Ayumu some more and confess her undying love for him, by stabbing him. Also some mixer party, MASK DONALDS, and some other fun shit happen. No Dyson-kun though. =/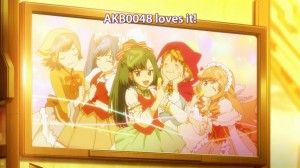 Truth be told, I am on the edge of dropping AKB0048, but not necessarily because it is bad, but because it just isn't my thing. The only thing that separates this show from The Idolm@ster is the space-future plot, which really is just the same mechanic adopted for the future. It's still about girls trying to become idols, and honestly, if I was more into the Japanese idol scene, I'd be bursting nuts all over this, but I ain't really into these things. But I'll give it a couple more episodes to see what goes down.
That's all I got for now, will try to throw up some additional takes on other shows tomorrow or Monday. For now, I'll leave you with this week's Nyaruko, which can be summed up in just a screenshot.