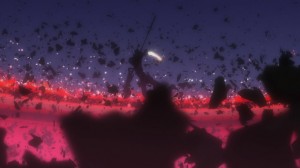 Japanese fans will no doubt be heading to the theaters to watch the release of Evangelion 3.0: You Can (Not) Redo this weekend, the third movie in GAINAX's four-part release of The Rebuild of Evangelion series. Kotaku posted a clip of the first few minutes of the movie as it aired from Nippon TV's special earlier, and right off the bat it looks like we're gonna see some hot eye-patch-Asuka action. I imagine it will be awhile longer before we get the DVD/BD release and someone cool gets a copy up on the internet for us to view, I'll be buying the BD either way, because it really does look better in HD.
Evangelion is, well, Evangelion.. some like it, some don't. It's one of those shows that holds a special place in the chronicles of my weeaboo fandom being one of the earliest mecha shows I've seen, and also one of the most confusing anyshows I have seen. You can catch both of my reviews on the first two films here and here. Strap in, boys and girls, you mustn't run away…
Edit: I've been going through those old reviews fixing the formatting and it occurs to me that they really could use proper revisions. I may consider re-writing new reviews of the first two Eva movies when I re-watch them.