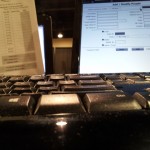 Here be the travesty that is SUPER AWESOME CON STAFF at Katsucon 20 in Washington, DC. I'll be cobbling this together in spare time, and will clean it up later during downtime.
COMMENCE THE JIGGLIN'
Friday
4:30AM – We began driving in sleet/snow/mix on fairly slippery roads. Couldn't do more than about 40MPH. Once we got to New Haven, conditions improved, but didn't really completely improve until we got through New York City.
Which, by the way, CTDOT/NYDOT, how many cars with flat tires does it take to fix your goddamn roads? I passed about six. Lucky I managed to avoid that.
~7:30AM – Ah, NJTP, land of someone else pumping my gas, and clean roads. The least they can do for the 15 bucks worth of tolls I'm paying them.
~9:30 – I still hate you, Delaware. You and your toll bridge.
11:30AM – Arrived at the hotel, and this time they had my room ready before 6PM. Had to buy more windshield wiper fluid from an Advanced down the road. I kinda ran out of that as I hit Baltimore. I hardmoded it all the way to the hotel. Don't be impressed, it was kind of dumb. Actually, be impressed. A little.
1:00PM – Arrived and checked in with staff, set up, and started processing artist check-in sheets. The faster those get in, the more time I have to INTERNET AT A CONVENTION, MAN.
5:30 – I hate to judge cosplayers.
Nah, I lied. I am completely judging you. Pain of being a human.
8:30 – I've been awake for far too long, and I am hungry.
9:30 – I WANT TO GET OFF MISTER BONES WILD RIDE.
9:45 – I WANT TO GET OFF MISTER BONES WILD RIDE.
10:00 – I WANT TO GET OFF MISTER BONES WILD RIDE.
10:30 – I WANT TO GET OFF MISTER BONES WILD RIDE.
11:00 – I WANT TO GET ON PAPA JOHN'S WILD RIDE.
11:30 – I JUST WANT TO EAT PIZZA AND GO TO SLEEP. HOW MUCH DO YOU SERIOUSLY HATE THE BABY JESUS?
But as it turns out, Modern Family is actually pretty funny.
Saturday
?:?? – The best part about waking up and not knowing where you are is then knowing you're at a convention, and wincing a little as you go back to sleep.
8:45 – Breakfast at the hotel was decent, but the room was full of attendees and other staff. Mind you we're about three miles from the con center at a place outside of National Harbor because I am not made of money, 100/night is easier to swallow than 200+/night. Also, much better breakfast than con staff breakfast. I always feel like a foreigner to other staff despite having done this for ten years.
10:30 – Day two begins. More bids, more artwork. More cosplay outfits. Heh. Heh. Heh.
1:45 – First staff meal of the trip, cheeseburger and fries. Having not had bread of any real sort in the last month, much less a cheeseburger, this was quite a joyous occasion. It was quite delicious.
2:30 – First run through the Dealer's Room. Was looking for a Tachibana Hibiki FIGMA. Lots of other stuff, like a Hayate (Nanoha), but $65? Oof. Can probably source that elsewhere. Wife bought six more Furry Bones. Cause you know, we needed six more to add to the six or eight from last year. Guess I can't say much though. Gotta keep her happy so I can buy more figures.
2:45 – It's really the only logical thought.
3:00 – My wife snapped this while I was looking for Hibiki. I couldn't resist posting that. If you're the person in that photo, you're awesome. Also, if you want me to unpost this, lemme know. I know that can be kinda weird.
5:00 – Ten PM. Live Five. Ten PM. Live Five. Ten PM. Live Five. Ten PM. Live Five. Ten PM. Live Five. WHY DO WE PRINT PROGRAM BOOKS?
6:59 – It's the FINAL COUNTDOWN
7:45 – Chicken tenders and fries. If it was good enough for you when you were three, it's even better at thirty.
9:00 – Bought art sorted, unbought art shifted, time to tear down some gridwall. My favorite part
9:15 – I decided to use the bathroom for business not conducted in a standing stall. I mean, really, the state of these bathrooms could stand to be better if people didn't treat them like their home bathroom.
9:34 – THRILLER APPLAUSE
10:15 – A canvas KamiNomi piece of Elly sold for over $350. You read that right. Three hundred and fifty dollars. Take that, Haqua fans.
Sunday
8:00 – Implying implications?
10:15 – "The King's Ransom" is a moniker that really only works when you're in Prince George County, Maryland. Even then, "The Prince's Ransom" probably has less impact. Less CHESTY IMPACT even.
11:45 – Made another quick run of dealers looking for Hibiki. Found some other things not worth my money, like Vivired Operation and that dog scissors show from a few seasons ago, but no Hibiki. I did notice two people selling Hoshino Ruri Nadesico Movie version figures, which I thought was interesting, considering current generation plebs have no clue who she is. Alas, I will have to procure her through the internets. Like normal people lazy fucks.
2:30 – In record time, everything is broken down. As soon as these artists check out, we're clear to get us some food and leave. Normally I stay one more night and drive home, but almost everyone is bailing out early this year and we didn't feel like paying another night for the room. Hopefully traffic holds up for the return home.
4:00 – We skipped Thai plans and decided to head home. But, we stopped at a Sheetz after we got out of Baltimore for gas and food. Nearly a half-hour was not worth my turkey-pepperjack on a pretzel bun, but it was delicious anyway. Seriously, lady who ordered twenty things, Sheetz is not McDonalds.
~6:30 – Eight bucks to cross a fucking bridge, four more bucks to cross another bridge. Delaware, you are still the worst.
~9:00 – I didn't get stuck in Fort Lee before the GW. THANKS, CHRIS CHRISTIE!
~10:45 – Hey, it's home, and– OH JESUS IT'S COLD AGAIN.
So once again, another con year is over. Expect a post tomorrow, at probable considerable length (read: wordswordswords and 2DEEP4U) on why my closing curtain may be drawing near for cons, some shit about the anime fandom in general through the eyes of my wife, and a few other observations made during this past weekend. Fix a snack. Or don't bother reading it. Most people choose the latter.