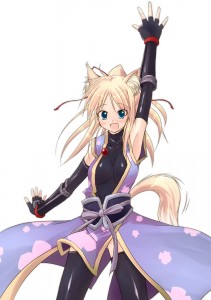 More new season premieres to cover, with new seasons of Dog Days and Rinne no Lagrange, and a couple new shows, not to mention Saimoe 2012 preliminaries have begun, let the games begin~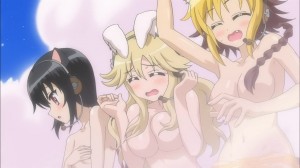 Last season we got introduced to a series that, while highly furry, felt like a lighter version of Nanoha in many ways, and it was even the same creators. The hero came, he conquered, he pat the princess on the head, and went home to the real world. Season two of Dog Days opens with him and his friend Becky heading for the roof of the school. Set three months after the last season, they both head back to Flonyard along with Cinque's cousin Nanami Takatsuki, who is summoned for Galette. As soon as they get there, the battle begins and Cinque makes a grand entrance just in time to face Gaul. Honestly, I like this show, many may not, but I can look past the furry shit to get to the core fun of it, and that works for me.
TLDR Watch This: Leonmitchelli, Leonmitchelli, and Leonmitchelli.. also Yuki
TLDR Don't Watch This: you are very anti-furry
Sub Group: Hadena
First Rating: 8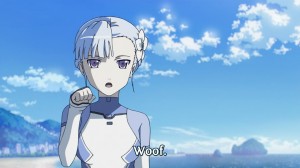 Some say, that she can run across water while carrying Olympic gymnasts, and that she was the only one to reject Kyubey's offer in a single timeline. All we know is, she's called The Madoka
No, but seriously, if there is one show you should consider watching, make it the second season of Rinne no Lagrange. It is quite good, and the shit heats up from the very first episode, seems Muginami is making trouble in the neighborhood.
TLDR Watch This: jerseys, colored flying machines, and a cross-dressing maid
TLDR Don't Watch This: the extreme likeliness that Muginami will get really fucking annoying somehow
Sub Group: Underwater
First Rating: 8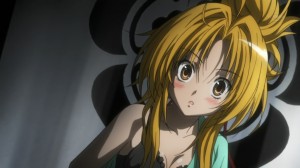 Set in the time-traveled past of the civil war, Oda Nobuna no Yabou seems to focus on Yoshiharu Sagara who ends up in Sengoku period, only the lords are cute girls and Kinoshita Tokichiro, who was originally at the side of Oda Nobunaga, is dead. Sagara must take his place besides his female counterpart, Oba Nobuna. It's quirky, kind of interesting, I expect it to borderline fanservice often, but we'll see where this rolls.
TLDR Watch This: samurai girls, ninja girls, "just as planned" girls
TLDR Don't Watch This: rather stick to the BttF kind of time travel with chalkboards
Sub Group: Commie
First Rating: 7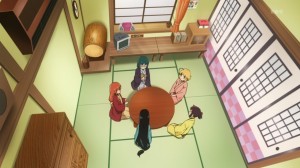 The best way to describe this show is the old Seinfield tag line, "Something about Nothing". It's like much of the early episodes of Lucky Star when they talk about cornets or random shit. Joshiraku is about five rakugoka girls who talk about random topics in-between sessions shown on screen. A lot of the references and jokes will probably only be understood by a mostly Japanese audience, as they touch on political and social things often, such as the recent bill passed to regulate borderline risque anime. Oddly enough, gg is subbing this show, marking the first gg subbed show I've watched in awhile. They did a pretty good job without resorting to walls of TL notes, so I'd say stick with them for a good time.
TLDR Watch This: random humor
TLDR Don't Watch This: you expected Newman to jump out
Sub Group: gg
First Rating: 7
Saimoe 2012 preliminaries have started, information can be found on https://saimoe.tldranimu.net. I'll try to balance that and this throughout the summer.
Until next time. Same bat-time. Wrong bat-place.