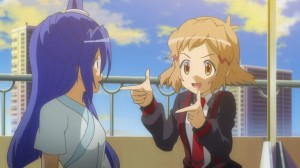 So with three episodes to go in EARTH MOON SONG OPERA FIGHTING ROBOT GIRLS, some new shit emerges that puts some of my old speculah to bed, but brings up some entirely new questions. I know how much you love me orgasming over SYMPHOGEAH, so I am going to do it again, because it's my blog, my birthday (tomorrow), and I give zero fucks what YOU think.
So let's start from where I left off in our last segment of REAL TALK: SYMPHOGEAH and go through episodes eight through ten.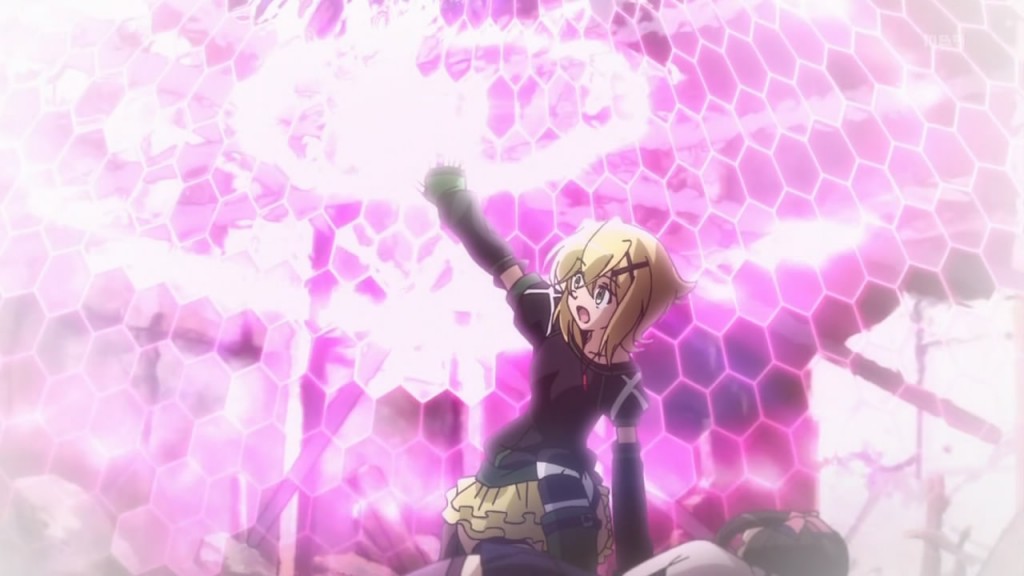 Episode eight highlighted a few things, one, Hibiki will die if she tries to use her Symphogear, or so everyone says, two, Maria is in fact NOT Fine and it seems Kirka might be, and three, Americans are always double-crossing-backstabbing-cockbites in relic-laden Earth a la Symphogear. The culmination of all of these factors seems to be that within Maria and Co. lie deep divisions about what "the plan" should be. Nastassja ("Mom", "Ma'am", however translated) seemed to be cooperating with Ver and his plans initially, but seems against his ideas now, but will not stop him from raising the "Frontier" which seems to be some kind of landmark from the past, but it is protected by a relic that can only be negated with the Shenshou Jing, one of the gear relics they have been using to cloak their plane since the beginning. The effort fails, but Nastassja seems to be aware of that, infuriating Ver, and leading her to attempt to give everything back to the US, whom they ran from in the first place. Intending to kill her and Maria, they were intercepted by Ver and Noise who were nearby. The battle in the tower ends up involving Hibiki and Miku, leading to some nasty results.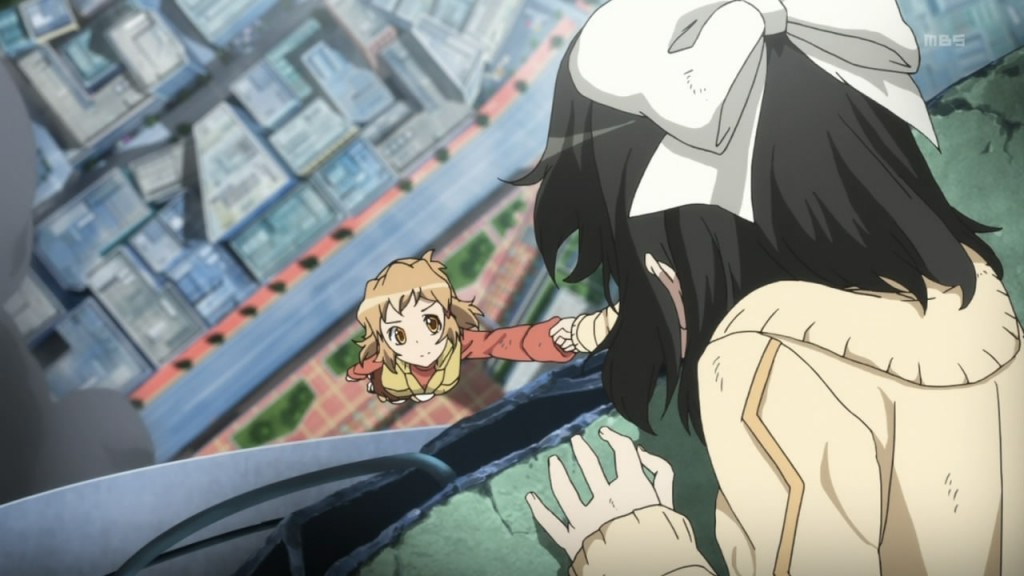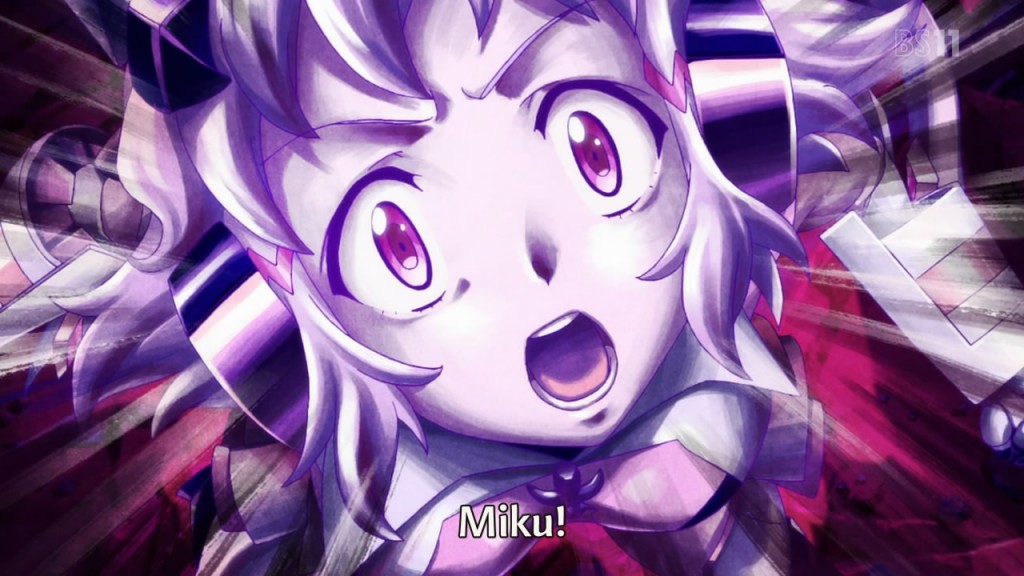 Episode nine starts out with Hibiki in her gear, but the explosion of the tower and feeling of losing Miku forces her to disengage while Tsubasa and Chris spring into action to clean up the Noise around the tower and scout for clues as to where Miku might be.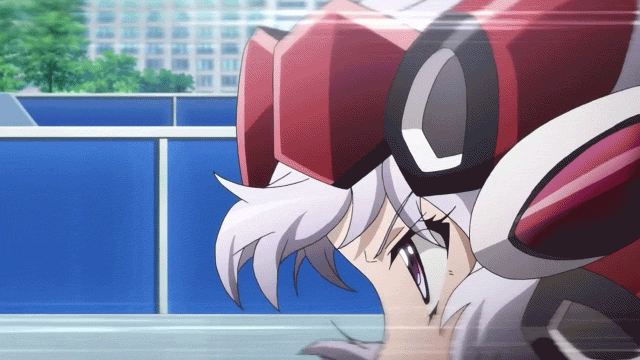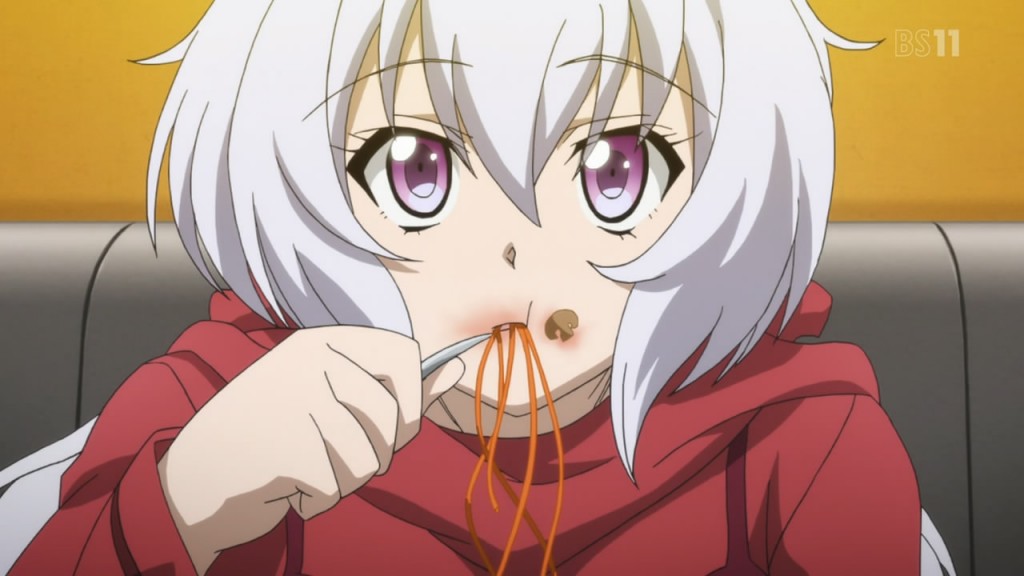 Yukine Chris fans, this is your episode, not only does she wreck face with the Noise in the first half, but her short scene with Tsubasa in the restaurant is full of cute Chris goodness. With signs that Miku survived, but was kidnapped by Ver and Co. the girls embark on a Rocky-style training regime with Genjurou, of which Chris has a hard time keeping up with. Training is cut short though when Ver, who has Maria on his side and Nastassja indifferent, goes after a pack of navy vessels on the water near the site of Frontier. Shirabe goes in to attack the Noise Ver set upon the soldiers, but Kirika comes after her and injects her with anti-LiNKER, de-syncing her from her Gear. Tsubasa and Chris show up to fend them off, but this triggers Ver to respond with just the worst thing for poor Hibiki who is sidelined from the fight: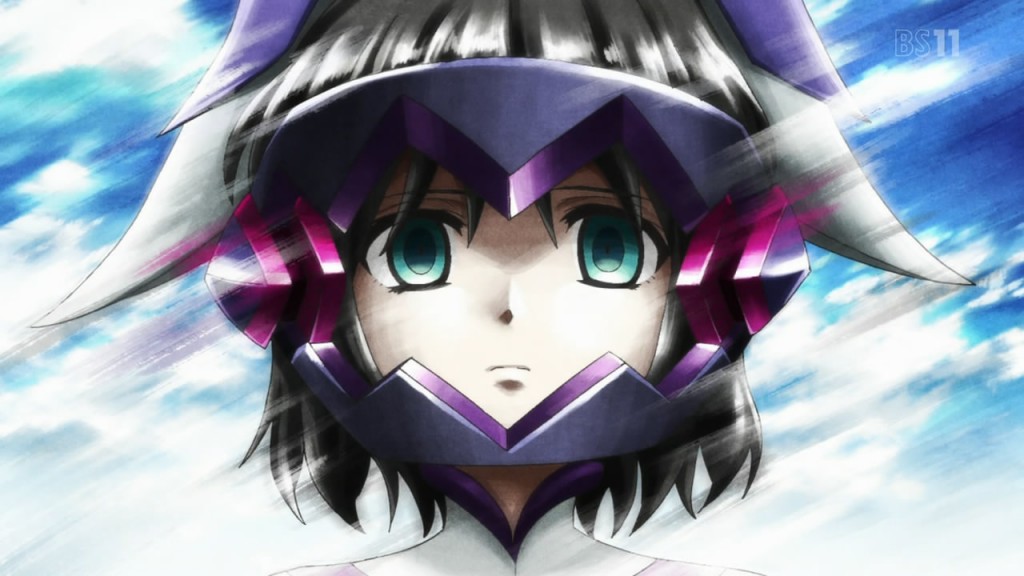 Yep. Shenshou Jing has now been fused with Miku, and this leads into this week's episode, where Gear-Miku takes on Chris and pretty much loses until she fires her MEXIBEAM and nearly wipes out everyone including Shirabe. Hibiki simply cannot stand for this and insists to go into battle. They estimate she has about two and a half minutes to fight before she overheats and Gungnir tries to kill her, so EVA UNIT 01 sets off on a dangerous suicide mission. Only for your transform and battle song, you get "Rainbow Flower", so you know shit is going to go down.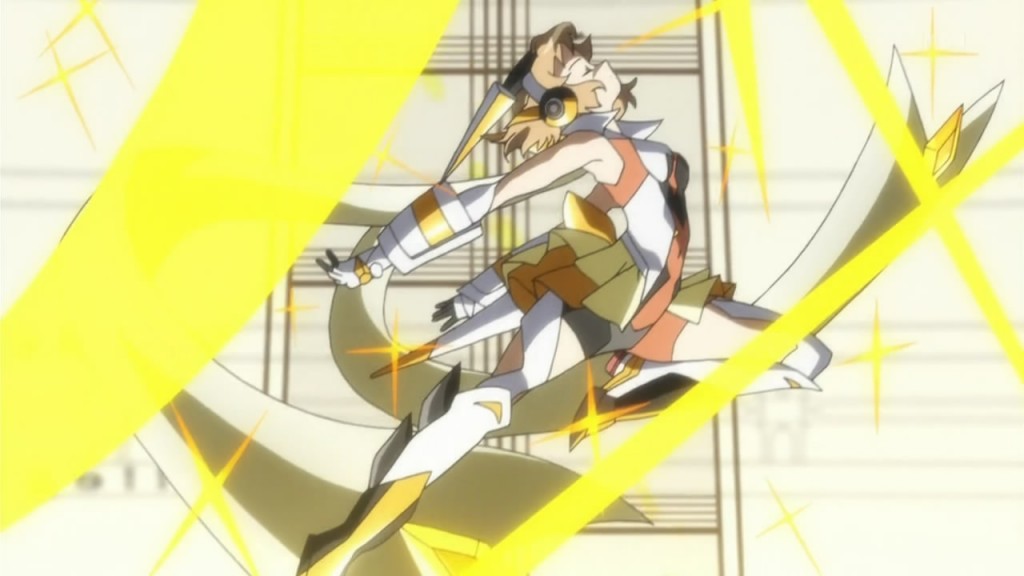 Two minutes forty seconds was an eternity for her, and it certainly showed as Gungnir attempted to wreck her internally, but in the final moments she overpowered Miku as Miku realized the folly of the fight, and jumped straight into the beam aimed for Frontier, hoping the relic-cancelling effects of Shenshou Jing would free Miku from the gear.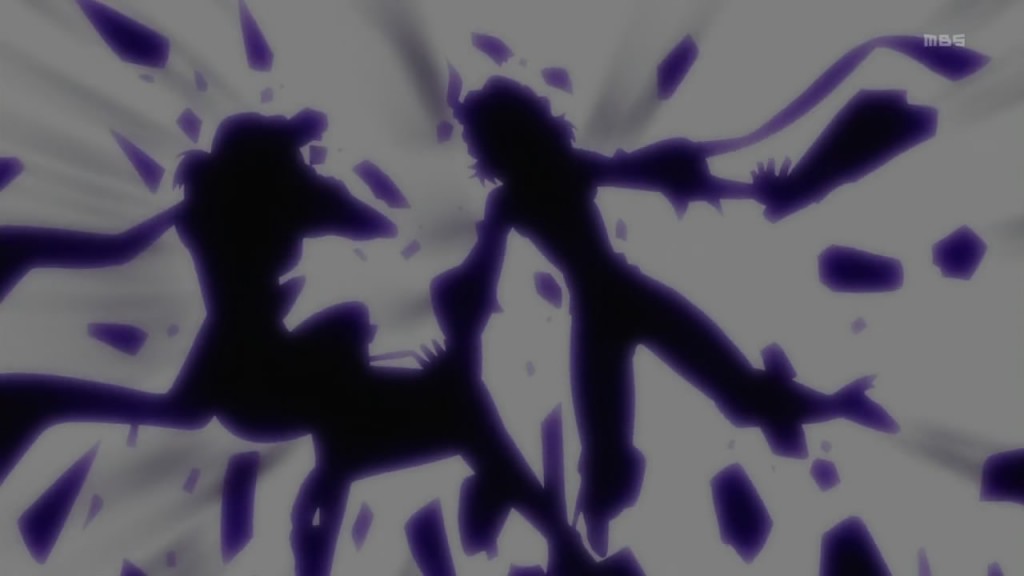 The beam was successful in opening Frontier, ending the episode, but not before a short minute or two ending that blows your mind…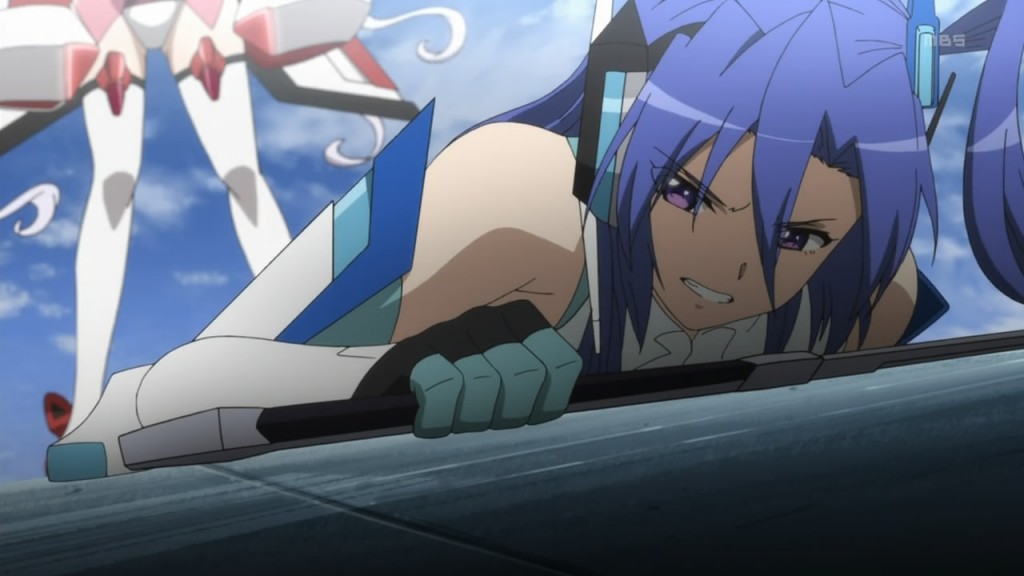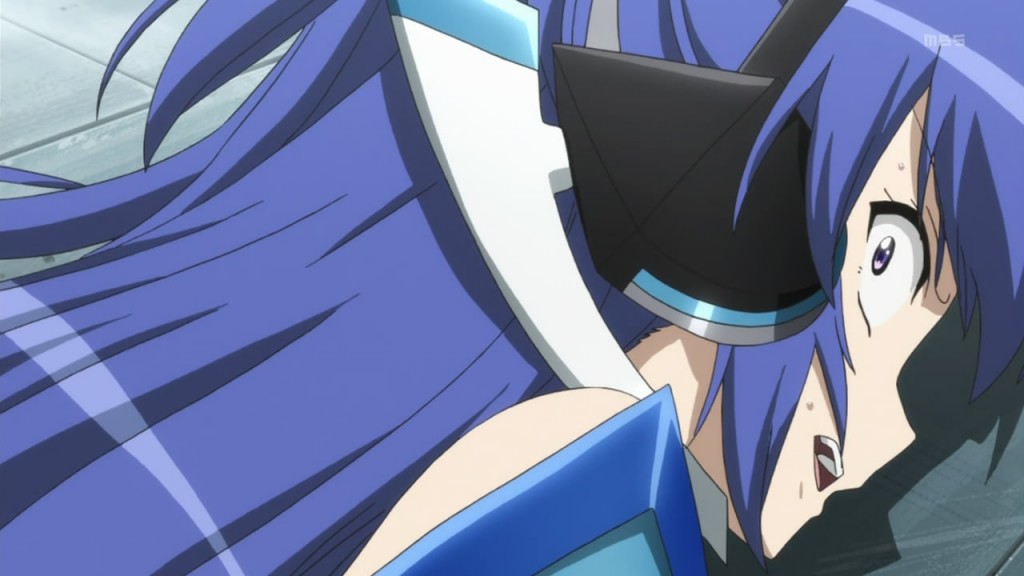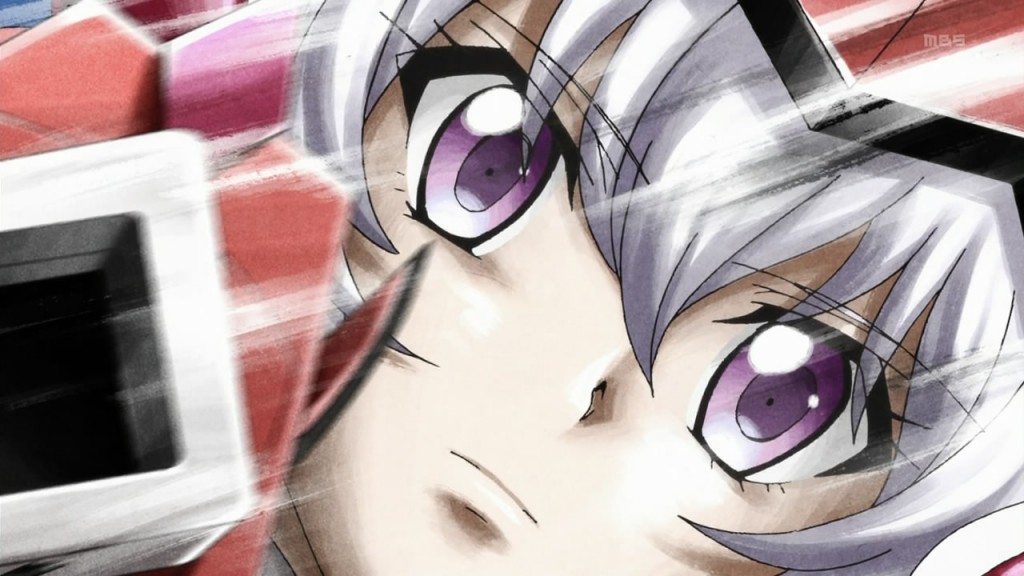 ---
So there was a lot of speculah before where I said Gungnir would probably turn Hibiki into something awesome, or fuse her with someone else, or anything that doesn't equal her dying, because I just don't see this show disposing of its best character ever. I know plebs on /a/ will say NANA IS THE REASON SYMPHOGEAR EXISTS but come on guys, Tsubasa has been the shittiest character ever in both seasons, being completely outclassed both by Hibiki and by Chris, Chris being in TWO DIFFERENT GEARS and still outclassing her. Sure, she has some flashy attacks, but that is all you get from her, flash and no substance. Hibiki may not have a weapon, but those are fucking fists of justice, worthy of being Subaru 2.0 a la Nanoha with the berserker rage to match. If you didn't see her going batshit insane from having her arm bit off and fucking Nephlim's day up, and getting a free arm back, you're watching the wrong show.
This episode's final scenes with her and Miku going into Shenshou Jing's beam aimed at Frontier has me thinking this might be the end of Symphogear Hibiki though, depending on what "relic cancelling" means. Certainly getting Miku in there, her intention was to strip Miku of her gear, but no doubt she also went in at the same time and might have her gear stripped from her too. I'm now curious to see if this strips her of her power completely, or brings it back to an earlier stage when it wasn't wrapped around her entire body. It could also go the reverse perhaps and fully integrate with her body, allowing her to use her gear freely without consequence, which I would absolutely love, because this season really needs to end with her punching Ver in his shitty face. There is also Maria's Gungnir, which is an external relic, I'm wondering if that ends up in Hibiki's hands at some point, either by Maria turning it over to her, or it somehow becoming part of Hibiki.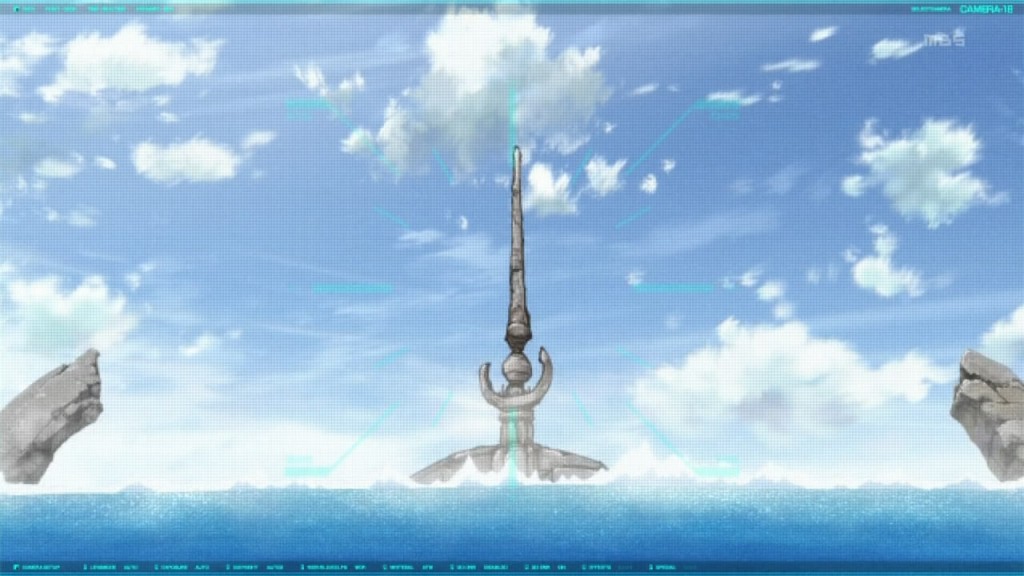 Then there is Frontier. I'm not sure what the specific purpose of this thing is, I don't remember if it was explained in an earlier episode, but I assume its function is similar to the tower from the last season, only it might have something to do with deflecting the moon's orbit. Since there has been no real explanation for how it connects to the relics, or even the relics existing themselves, it's difficult to speculate on what might happen. It really reminds me though of that floating fortress Schneizel controlled late in the second season. Really, I am afraid Symphogear will kind of pull a Geass with the relics being similar, and that Frontier will either negate them all, effectively ending the series since there is no more Gears and presumably Noise, or it will invite a whole new reality in which they will have to fight something like the vault boss from Borderlands.
But that final scene, with Chris… what? I'm not even sure where to go with that. One theory is she is trying to defect over to Ver's side to destroy Solomon's Cane since she make a quip about it during battle. Pulling a Stocking here just seems like an interesting move, but hopefully this doesn't mean she is under Ver's control or anything like that, because I'd hate for GARbiki to have to punch her in the mouth.
TEE-ELL-DEE-ARR, Symphogear has been so much more than just a vehicle for Nana Mizuki songs, I feel. I realize that it was her who probably started this train, but if we were to compare this to Nanoha, Nanoha started because of Triangle Hearts and quickly spun in its own direction and flavor. The joke among many is that if there is a Symphogear S3, it better not be StrikerS, and for those unfamiliar with the Nanoha universe, StrikerS was the third season of Nanoha anime that focused on an adult Nanoha, Fate, and Hayate training new recruits in fighting and magic arts. Symphogear has enough players now to form a pretty sizable team, but I wouldn't want it to go in the StrikerS direction, where it really should go more in the GoDannar or GGG direction, which counting Genjurou, would make it pretty awesome. Really, at minimum, I want this season to end with Hibiki still retaining her powers, because no-Gear Hibiki would be sadness.
I'll end this segement with somemore 4chan goodness.