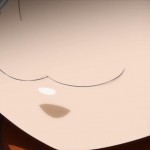 It's been quite a while since I last wrote, and part of that is because I had better (read nothing) things to do, but also because this season frankly did not grab me by the horns as rough as I thought it might. Many of the shows started strong, but fizzled out halfway through and just left me kind of watching when I got around to it. I've even fallen behind on episodes of some shows, like Coppelion and Golden Time, because they would fall to the bottom of the priority list.
So for this week, we're going to rank-and-file my watch list this season and I'll throw out a bit about what I think, even if I am not on the current episode.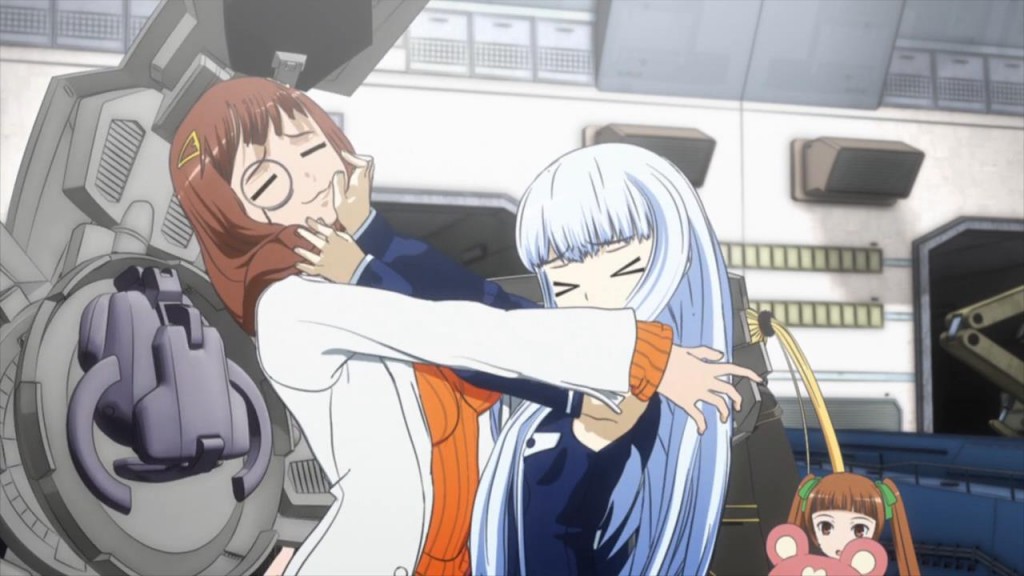 #1 Aoki Hagane no Arpeggio
"I'm blue da-ba-dee-da-ba-da-dee-da-ba-dee-da-ba-da~"
Even with the season's worst CG animation effects, Arpeggio is a show that appeals to me because it's cute girls as giant fucking battleships. Of course, the source material is far stronger than the animation, and I wasn't too keen on the plot change in the last couple episodes that deviates from it, but it's poised to make a stronger finish than anything else I am watching this season. I finally got my Hyuga in the most recent episode, and Fujita Saki turned out to be an excellent choice for her voice, well within my expectations.
Continuing Status: Sailing forward.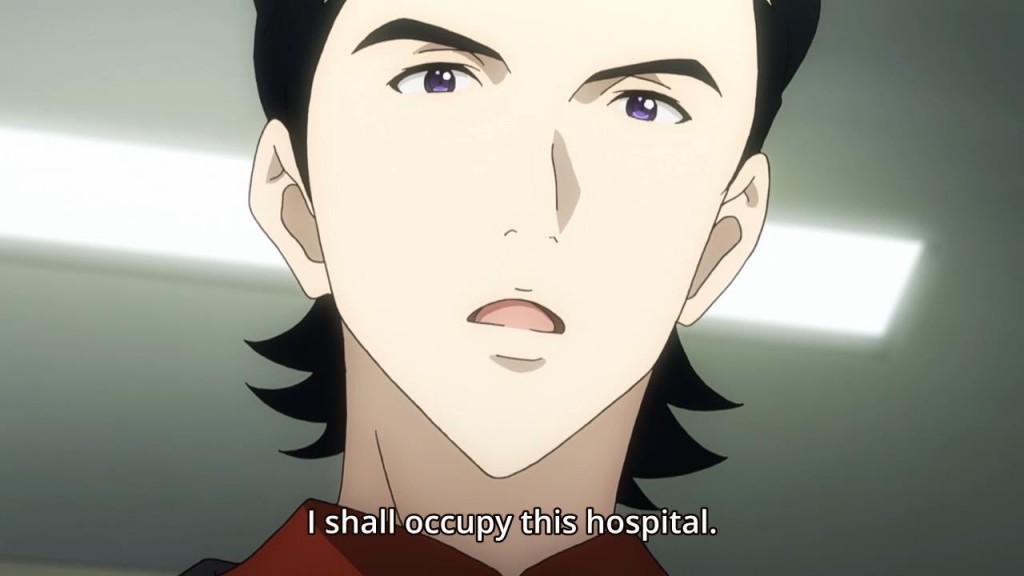 #2 Galilei Donna
"Steampunk Treasure Hunt"
Some minor animation niggles aside,
Galilei Donna
is what Arpeggio would be if they nixed the janky CG animation. The two share the core concept of being vessel-based action-oriented conflict-of-the-week, but deviate somewhat on other lines. I happen to find the characters in Arpeggio, for example, to be a bit stronger than in Galilei, and that's mainly because seven episodes in, we haven't been given many reasons to get behind anyone not named Hozuki. She drives the literal and metaphorical ship of this show, the others are along for the ride. I would have liked they spend an episode or two really telling us
why
the sisters were so distant before all of this madness happened, because you could tell there was strain, but it was discarded for the FIND THE TREASURE. Hell, there is now more backstory in Roberto Materazzi than anyone else, and that was one episode. But it's a solid concept, and one I enjoy watching.
Continuing Status: Fishing for more.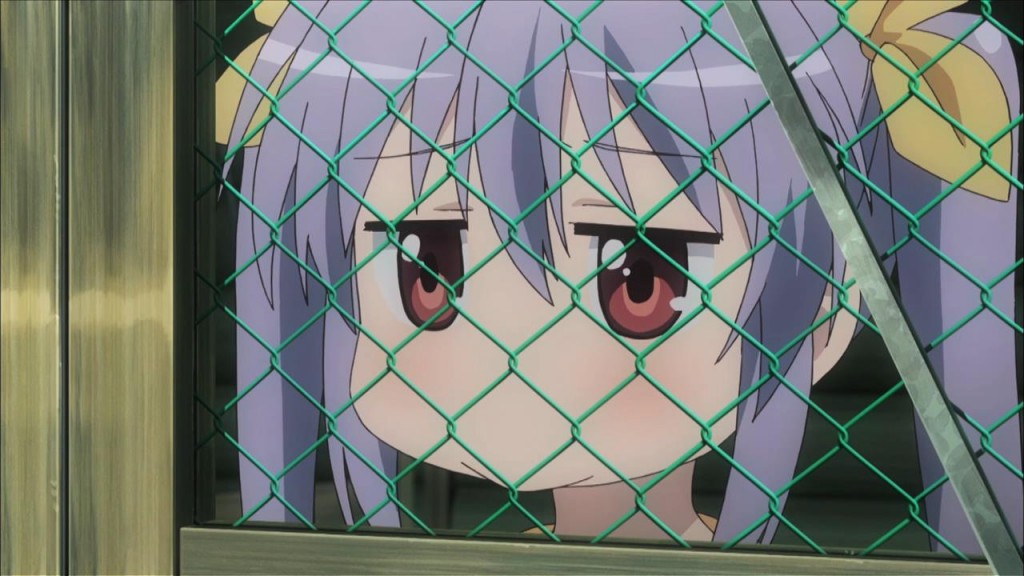 #3 Non Non Biyori
"Country-Style Comfort Viewing"
I watch a lot of Food Network, because for some reason people making food is interesting. You always get someone who is interested in
comfort food
, things like macaroni and cheese, fried chicken, and everything good ever from the South.
Non Non Biyori
is comfort viewing, it doesn't oversell itself on what it is, cute girls doing cute things in the countryside. You'd think we'd get tired of the
Lucky Star
concept after so many renditions, but occasionally someone comes along and makes it fun again. My regret is after reading most of the manga, which the show sticks to, I haven't been watching the show as quickly as episodes release, but when I do, it's fun. As someone who watches a shit lot more anime than most people, a fun show never goes unnoticed.
Continuing Status: Didn't miss the only bus.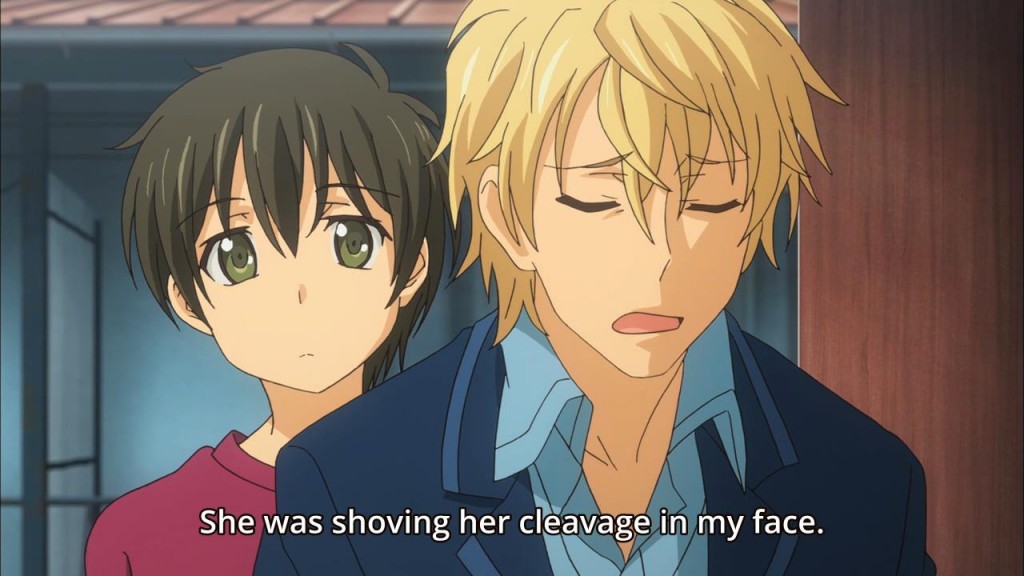 #4 Golden Time
"I have made a huge mistake"
The infamous line from
Arrested Development
just rings in my head throughout this whirlwind adventure of a guy who loses his pre-high school memories in an accident and winds up between a girl chasing another man and a girl who knew him before his accident in high school whom he liked. I sort of assumed this was going to be a college SoL or something similar, but we're going full
KimiNozo
here, and for those of you who have never seen it, I'll TL;DR it for you, free of charge:
Guy likes girl. Girl gets his by a car and ends up in a coma. For years. Guy gives up on girl and dates girl's best friend. Girl wakes up, and still thinks she is in high school before the accident. DRAMA ensues. No one wins. Then they made Muv-Luv.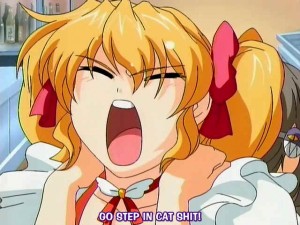 Yeah, Golden Time cops those feels on you, but in a much more palatable way. I have to imagine that if I were someone who lost their memories of high school, I'd be pretty okay with it, because fuck high school. Seriously. I couldn't wait to get out of that shit hole and into the real world, and all of my friendships and relationships happened after high school because bitches love guys who have a job and a car so you can all go places. Then when you hit thirty, you can regret pulling those leeching fucks around because if you hadn't you could have put all that gas money towards hookers and blow. I feel bad for Linda really, she took the easy way out by feigning ignorance of him for so long, and then when all the beans spill, she still friendzones him. The road to best intentions are paved in misery. It's a feel I know all too well.
Continuing Status: Tada Banri: A Man's Man.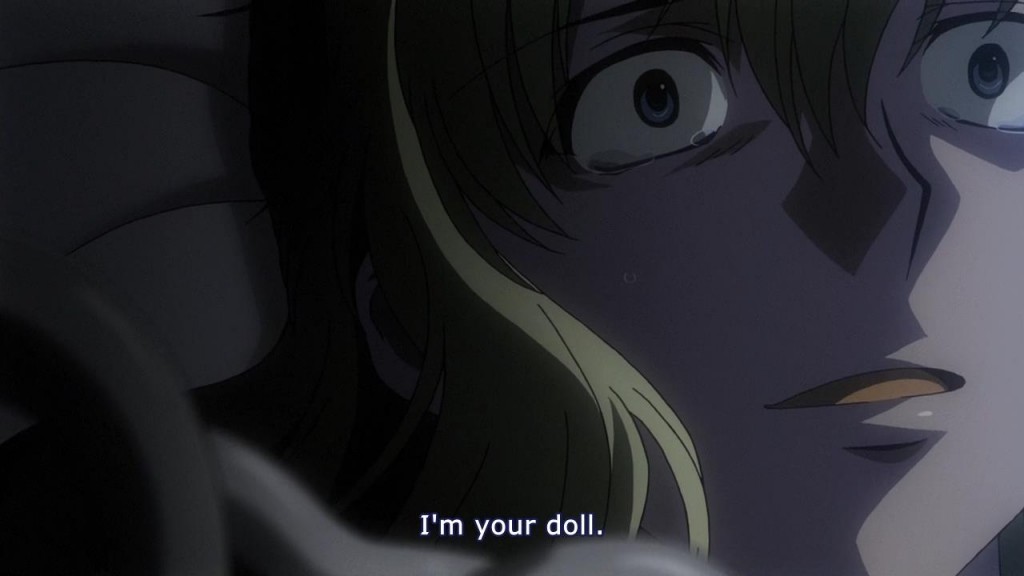 #5 Freezing Vibration
"We heard you like NTR. So we BACKTRACED IT."
I'm current on the manga in Freezing, so watching the show is eating my cake too for me right now, but I was surprised they spent a couple episodes animating the Louis arc after starting with the E-Pandora arc in the beginning of the season. Volume-wise Louis came before E-Pandora, so the events with Elizabeth and Satella didn't happen exactly the same. The Louis arc was some serious shit when it comes to topics like torture and rape, and it really makes you hate the guy quite a bit. Fortunately they don't spend a lot of time on this and get back to Alaska in the most recent episode. Freezing is action and tits. The manga is amazing, and I'm glad to see they did not skimp out on this season. Hopefully it will end strong.
Continuing Status: Triple Accel.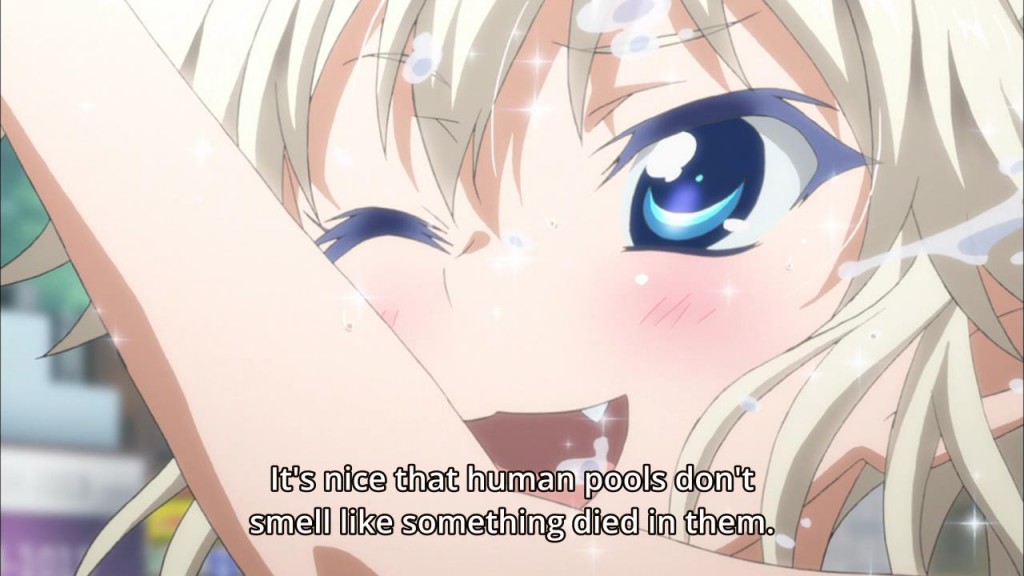 #6 Yuusha ni Narenakatta Ore wa Shibushibu Shuushoku o Ketsui Shimashita
"Today Only: Buy One Pair of Tits, Get Three Free!"
It's not Maou-sama, which arguably had a little more junk in the trunk in every place that counts, but it's a fun show to watch, and Fino's naive personality has enough spice to keep her from being an empty shell with huge tits. I keep wondering however if they plan to shoehorn in some real plot, given the end of the most-recent episode. I tend to be weary of shows that try too hard to come up with REAL TALK after spending so many episodes taking it easy.
Continuing Status: Shopped.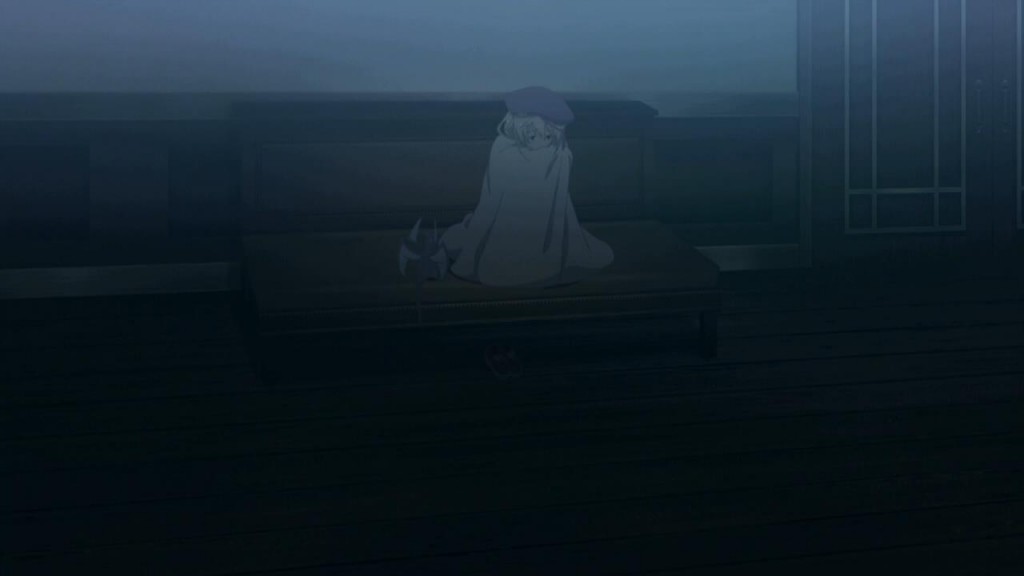 #7 Machine-Doll wa Kizutsukanai
"Not Second Last"
What really disappoints me about this show is that it could be #2 or #3 on my list if it wasn't for the animation. It kind of works, but it doesn't really work. Compared to the manga, it comes off as something Fred Gallagher would draw if he turned Megatokyo into an anime (god forbid the day) with super-round faces and near-lazy features that look worse from a distance. But the plot and characters are very relevant to my interests and quite fun to watch. Having read as much of the manga that is out though, I'm watching the episodes when I can, mostly because they air earlier in the week and can be package-watched with Arpeggio.
Continuing Status: #68 Almost Eighty-Sixed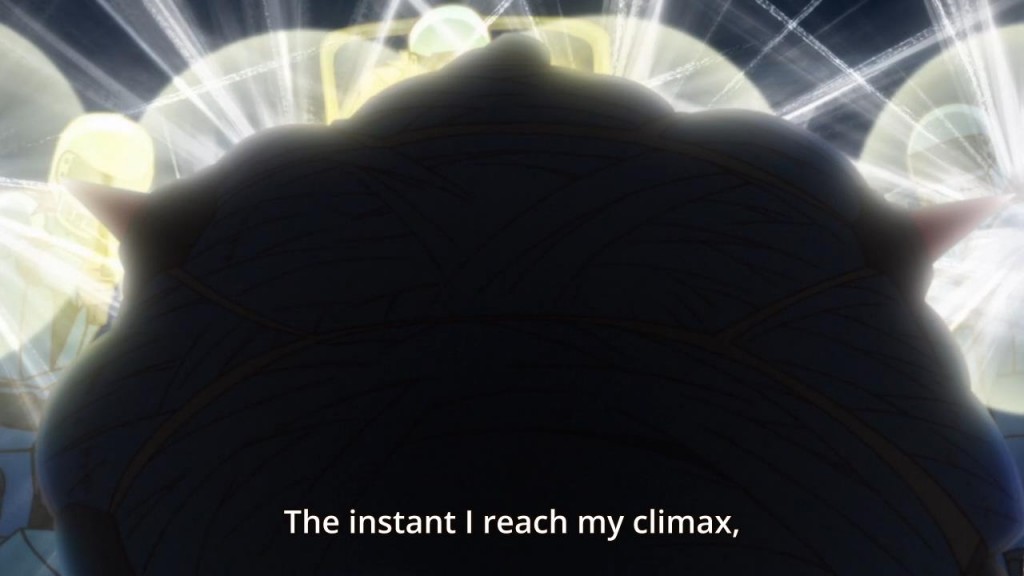 #8 Kill la Kill
"I'd rather be a No-Star"
Everyone had high hopes for Kill la Kill, myself included, but like a Joss Whedon show, it fell flat on its face trying too hard to impress us with all this flash, but little substance. Don't get me wrong, I keep watching it each week just to see what crazy shit will happen next, but they go one week from something sorta cool, to something like this week where its Gamagoori's backstory, which was less than impressive and really just reminded me of every shitty kid I knew in school who had a father WHO OWNED A CAR DEALERSHIP. This entire show is a satirical take on hierarchy and social status, and how absolute power corrupts absolutely, and yet there is no moral take-away from it. In the end, you're told being a peon and BEING YOURSELF is better than being an evil bitch who is still upset Daddy didn't get her a pony for Christmas so she cried until she was given
a goddamn city.
Continuing Status: Three-Star Goku Uniform of STILL GIVING A SHIT SOMEHOW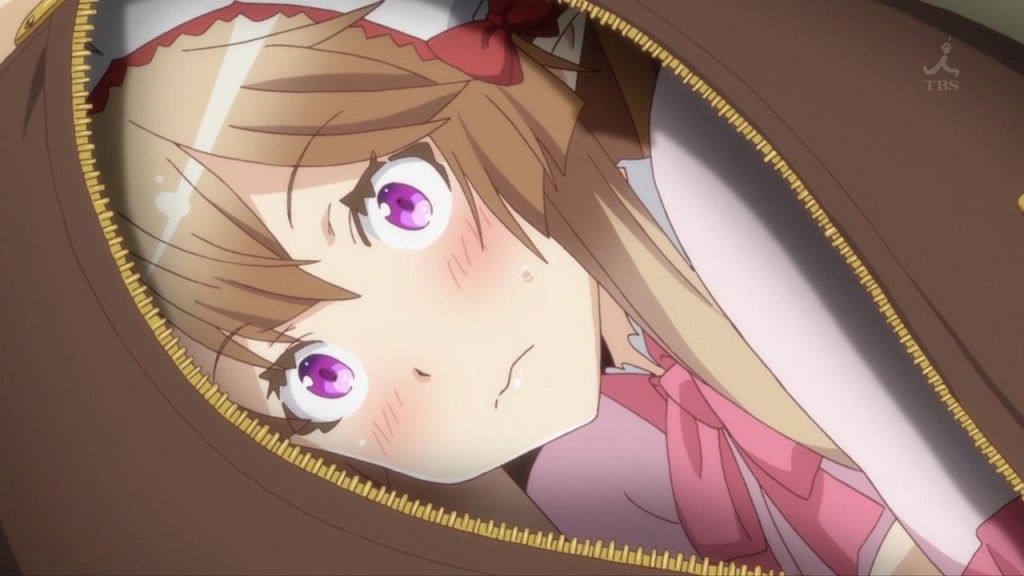 #9 Outbreak Company
"Half-Elf in the Bag"
There are two things I cannot get over in
Outbreak Company
. One is that really annoying face. You know the one. Every fucking character does it. It's like :> It bothers me. The other is that this show has the potential to be pretty good at being something between
Zero no Tsukaima
and
Dog Days
, and it chooses neither. It chooses to sit and spin its wheels in six different directions and be generally boring to watch. The only reason I do watch, is Myucel, Elvia, and Minori (minus the BL) are great. Everyone else is forgettable. It's an empty harem show disguised as a fantasy show, and that just annoys me like Infinite Stratos annoys me for the same reason. You wear a disguise to act like human guys, but you're not a man, you're a Chicken Boo.
Folks can say what they want about Dog Days, it had better characters and a better plot for a trans-dimensional show. Zero no Tsukaima did it better with the harem as a sub-component of the show and not the main focus. Outbreak Company has equal footing with neither. Prove me wrong.
Continuing Status: I miss Dog Days. =/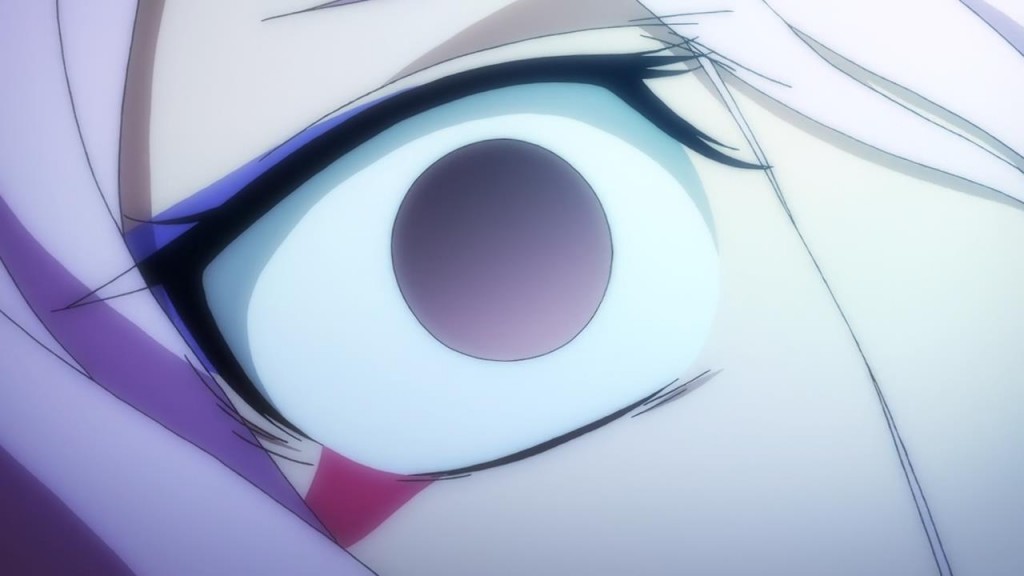 #10 Kakumaki Valvrave Season Two
"L-Elf in the Bag"
The most difficult thing about Valvrave is the fact that even though I am scoring it so low, it really could be a front-runner each week, if it wasn't so retarded about everything it does. Sunrise had a chance to make something really neat, and instead they borrowed from every previous franchise they had and melded together this tangle-web of recycled and overused tropes in mecha anime. Dare I say they pretty much pulled a Xenogears out of this week's episode, telling us these lifeforms crash-landed on Earth and spend the next thousand-some years sucking the life from people to live. Soylent People is Green anyone? Now go through Xenogears and re-map everyone in Valvrave to it. Is your mind sufficiently blown yet?
I fully expect this series to end in some kind of larger deus ex machina than we've already seen. Haruto has already become Jesus Yamato, and now that they're heading back to space, I'm sure that means Shouko will take her place as Mary Sue Clyne. I plan to watch it all, because much like Guilty Crown I have some sick perversion to see trainwrecks to the end. But if they kill off Akira, I'm dropping it. She's the only character worth a shit in this entire show. Everyone else can die in a fire.
Continuing Status: SYSTEM ID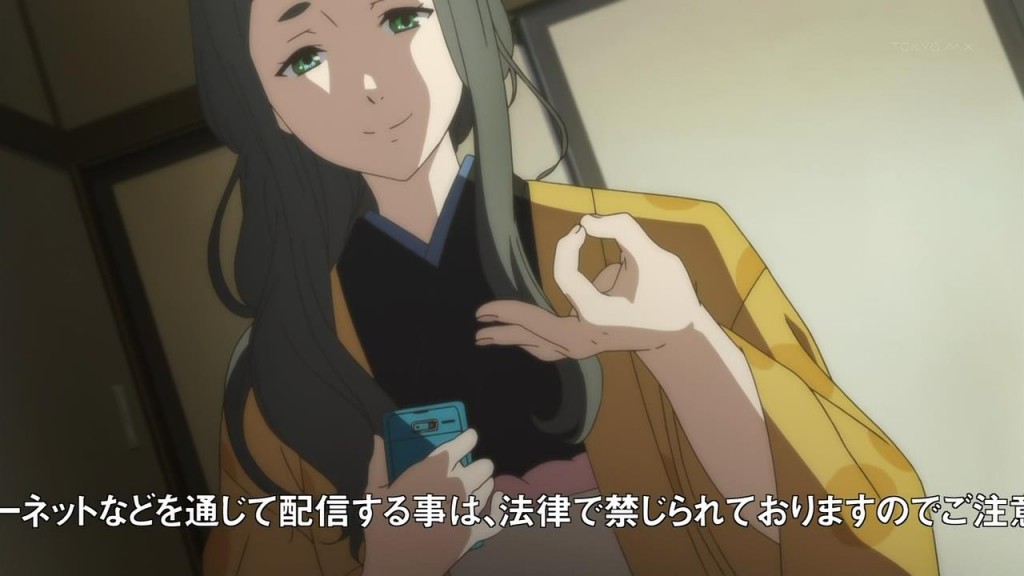 #11 Kyoukai no Kanata
"Unpleasantly Unpleasant"
This is your weekly reminder, Kyoukai no Kanata won't save anime.
KyoAni fans want this show to be the best because it has some monsters and demons and shades and shit. They think it makes it edgy and cool, but when you spend most episodes in the typical lull (LOL META) of cutsy-bullshit and SOL tropes, trying to take the serious action seriously is like inserting a laugh track into a completely serious moment on purpose. If you want a show that does this subject much better with a hell of a lot more class, try Otome Youkai Zakuro. JC STAFF just does this sort of thing better. Not best. Better. This type of thing is their wheelhouse.
But should this show make it to the states, it will sell, but not to who some might think it will sell to. I predict this will sell to the girls who are into the supernatural and vampire shit, things like True Blood, Twilight, and Once Upon a Time. Those genres are big in the US right now, and this show fits quite well into those realms. The point is, if you want to commit to a supernatural show, do so. Don't go in halfsies with typical moe bullshit that you can't even fully commit to that either because you're trying to maintain the other half of the show.
Continuing Status: In a lull. (DID IT AGAIN.)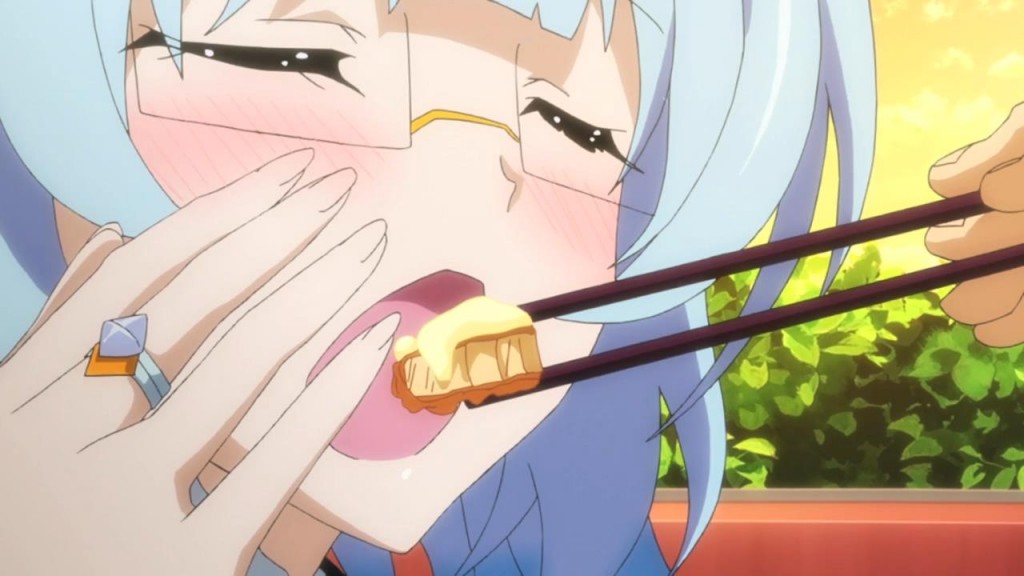 #12 Infinite Stratos
"God. Damn. Ichika."
You know what is frustrating? All season (or show) long, we've been watching Ichika tuck his dick between his legs and run from every girl's advances, and now that President McTits asks him to seduce her glasses-wearing sister and fly with her in the competition, all the sudden he springs into action and won't not try to get at her. What the actual flying fuck, Ichika?
I know, I'm beating a dead horse every time I talk about Infinite Stratos. I can't help it. Highschool DxD was last season and Issei is so much better at the harem than Ichika. Having had something like a harem back in school, I only wish I wasn't a complete pussy and exploited that for what it was worth. Would it have made me a terrible human being? Absolutely. I can tell you where being the nice guy gets you. It gets you at the short end of every proverbial stick. Anime harems never show you the real consequence of either motorboating the fuck out of the harem, or running away from it. Both, in my opinion, and based on my expert hands-on experience, lead you to having nothing in the end. So you might as well choose the former and at least get something out of it.
But hey, we have Madoka still. That means something is going down? Right?
But it won't be down any girl's pants. Sorry Charlie Ichika.
Continuing Status: JELLY.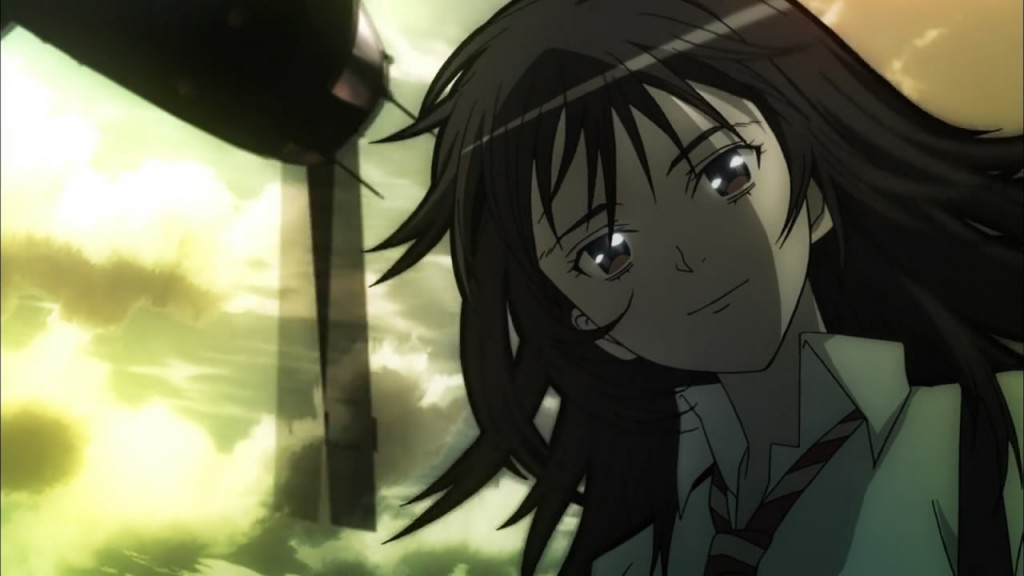 #13 Coppelion
"Fallout: Japan"
I still haven't watched past the first episode.
---
So that's the story so far. It's been one of those months. With the holidays coming up and work continuing to be busy, I just haven't found the care to address much on a weekly basis. I have a few ideas down the pipe to look into eventually to try to inject some life into this place. I know I don't advertise really, I have no real readership, and I don't really follow any rules, but rules are for suckers and I do what I want here. If I am the only one that reads this shit in the end, well, at least I'll know what not to watch one of these days. No one ever said I learn from my mistakes.
Oh, and Saimoe, ugh. Just ugh. Who didn't see this coming?