We're over halfway through Summer 2011 and closing in on what looks to be a substantial Fall season this year, complete with the long awaited third season of Shakugan no Shana and second seasons of Ika Musume and Working!!. Here is a look at this season's draw: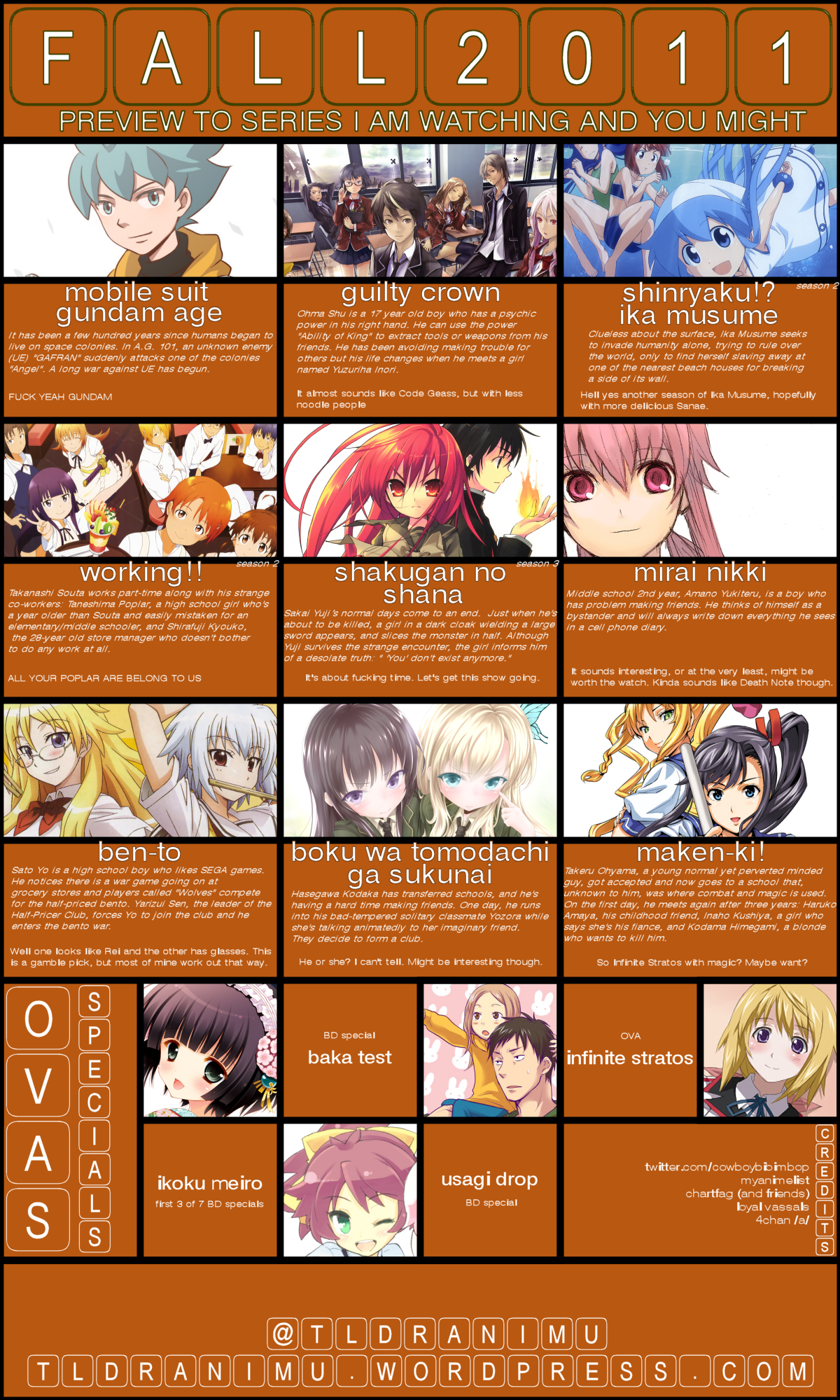 Mobile Suit Gundam AGE
The next offering in the legendary Gundam franchise is up this season with AGE, a story set in what looks to be a new alternate universe, AG 101, where an unknown enemy attacks a space colony. I honestly haven't spent much time on /m/ or elsewhere looking this up, so I can't comment on specifics, but if it's Gundam it's worth watching until I feel it's terrible.
TL;DR: It's Gundam. If you like Gundam, you should be watching. Otherwise, piss off.
Producers: Sunrise
Network: MBS/TBS
Airing: October 9 @ 17:00
Confidence Level: 90%
Guilty Crown
Production I.G and noitaminA's latest creation looks to be a supernatural/mecha series set in a school with a boy who saps powers much like Megaman I guess, but it has a very Code Geass vibe to it, but maybe not? I am interested to see what is in store, I am just hoping it won't be completely off-base like Sacred Seven has been, given similar frameworks.
TL;DR: It's airing on the noitaminA block, we've seen some good shit come out of that block the last couple seasons, so it's worth a shot.
Producers: Production I.G
Network: Fuji TV
Airing: October
Confidence Level: 85%
Shinryaku!? Ika Musume
If you've seen the first season, my guess it will be much more of the same. Short episodes, crazy fun, Ika Musume. There is little to drive home about in terms of plot or story, but Ika Musume is cute as buttons in her attempts to sound mean, and the rest of the cast supports their roles well. Always a good decision.
TL;DR: Wouldn't you sit down and watch?
Producers: Diomedea
Network: TV Tokyo
Airing: October
Confidence Level: 100%
Working'!!
Second season of A-1's successful series Working! about a high school kid working at a family restaurant with a girl older than him but shorter than him, a girl who carries a sword, a girl afraid of guys, a manager who doesn't manage, and two male cooks. Add some crazy adventures, a ceiling cat, the kid's three sisters, and some other random crap, and you've got something those of us would kill for in real food service.
TL;DR: Poplar. Just, Poplar.
Producers: A-1 Pictures
Network: Yomiyuri TV
Airing: October
Confidence Level: 100%
Shakugan no Shana III
The third and final season to the hugely successful J.C Staff series about a fiery hot red-eyed girl with a sword named Shana and a "torch" with the ability to live forever in death, Yuuji, and their adventures in battling denizens of the Crimson Realm, and Ball Masque, an organization bent on controlling the treasure that granted Yuuji his immortality as a Mystes. No idea what will happen here, but when it's done, it's likely done, so put on your wizard robe and hat.
TL;DR: URUSAI URUSAI URUSAI URUSAI URUSAI URUSAI URUSAI URUSAI URUSAI URUSAI MELON BREAD!
Producers: J.C STAFF
Network: TBD
Airing: TBD
Confidence Level: 100%
Mirai Nikki
A series about a boy who records his life into a cell phone, encounters a supernatural being that extends that ability to record the near future. Sounds like Death Note in a way, with some TEMPORAL PARADOX no doubt, but interesting enough to give a shot.
TL;DR: Welcome Agent 5 on your fourth late arrival.
Producers: asread
Network: TBD
Airing: TBD
Confidence Level: 70%
Ben-To
A school story about a boy who likes playing SEGA games, and when he visits the local store, discovers half-price lunch, but before he could buy it, ends up knocked out. When he comes to, he meets a few people who formed a club to get this half-price lunch by whatever means necessary. Looks weird, looks like it might be fun, pointless, whatever. Gotta have at least one series like it.
TL;DR: OH MY GOD MAN, THAT LUNCH IF HALF FUCKING PRICE. I'M TOO HIGH FOR THIS.
Producers: David Production
Network: TBD
Airing: TBD
Confidence Level: 75%
Boku wa Tomodachi ga Sukunai
A boy (or girl? the description is vague, and remember how I fucked up Loli Jam in my Summer preview?) who is half-Japanese, half-British, enters school, but with blond hair, is mistaken for a delinquent. Not making friends, he (she) encounters a girl and together they form a club for meeting people for people like themselves. It looks like it might be funny and serious, serious and funny, still don't know the gender? It's all good, as long as it isn't pretty boys I'm okay with this.
TL;DR: Mister Rogers (Japanese) Neighborhood with Cute Girls Doing Cute Things?
Producers: AIC Build
Network: TBS/BS-TBS
Airing: TBD
Confidence Level: 75%
Maken-ki!
A boy enters a school for using magical powers, but runs into a childhood friend and several other girls who don't like him. If you're thinking Infinite Stratos, you're probably right. I was also thinking that demon king series from last year too.
TL;DR: A Char would be fine too.
Producers: AIC
Network: Teletama
Airing: October
Confidence Level: 75%
So overall a pretty solid season, honestly I am expecting decent performance from my Core 3 and Gundam, and hopefully Guilty Crown, but hoping the others meet expectations. (Those aren't high) Worst case, I have a lot of shows from the past few seasons to watch, mostly from suggestions made by folks online, and what I've read from other places, so I'll keep busy. Saimoe 2011 is also still going, so still busy with that. More information as I dig it up.