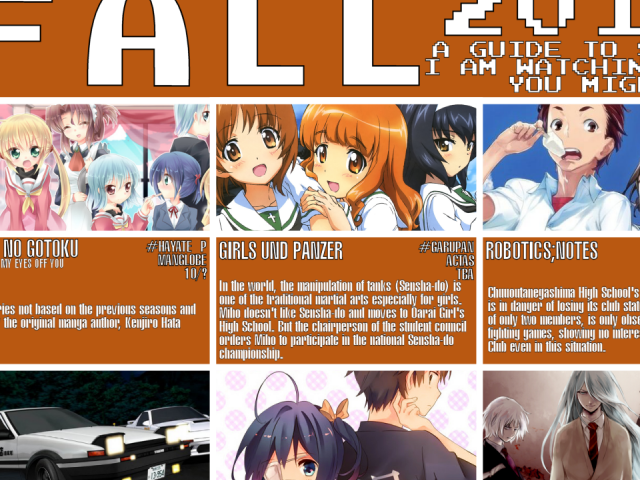 GENTLEMAN. BEHOLD. THIS THING I CREATED.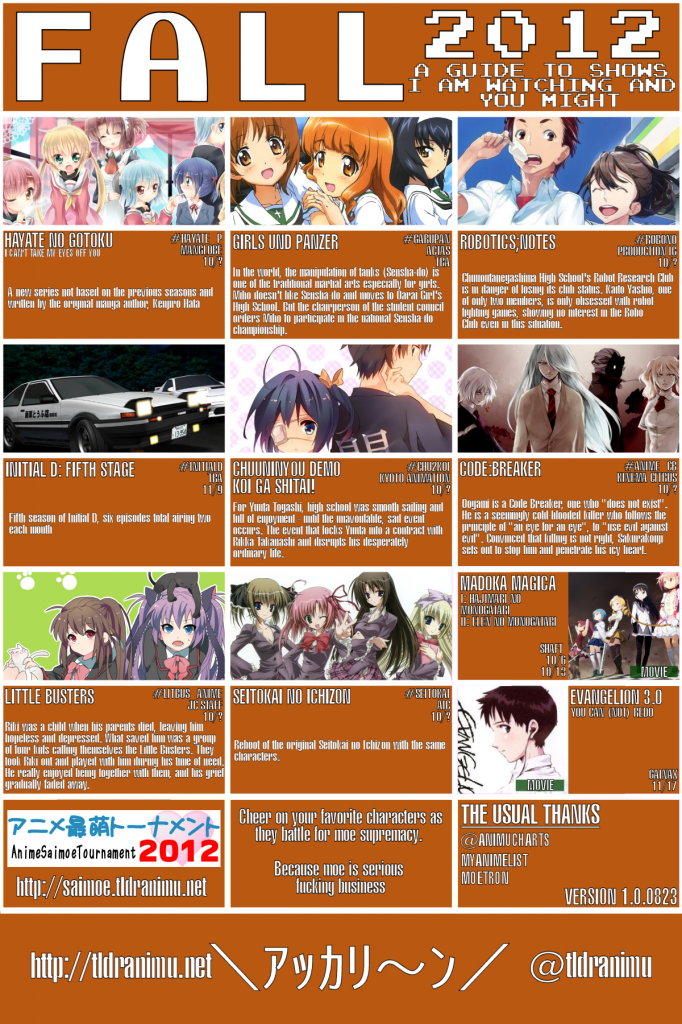 Confirming eight shows for this fall, with open slots for more if the price is right. Initial D Fifth Stage is not a full season, so I'll probably go back and watch some shows from this past year I might've missed and weigh in on those. Not a stellar haul compared to this past year, but it will close out the year well.
Robotics;Notes – 5pb (Chaos;Head, Steins;Gate), Production IG (lots of things) and airing in the noitaminA slot (lots of good things came from here) In short, fuck yes.
Hayate no Gotoku: I Can't Take My Eyes Off You – So this is being billed as an independent series to the previous HnG seasons, meaning a "reboot" essentially, and while I appreciate that in some ways, in many I wish they'd simply continue where they left off. But seeing as the manga is still ongoing and they came off the heels of the movie, I'll take whatever Hina love I can get. Oh, and Maria too. "Maid Everyday"
Initial D: Fifth Stage – GOOD NEWS EVERYONE, more Initial D. Bad news is, only six episodes, two per month. So that doesn't exactly thrill me, but still, NEW INITIAL D!!
Seitokai no Ichizon (New) – I dunno if this is something new or something continued from the first? Maybe want?
Girls Und Panzer – Girls and tanks? Might be cool.
Chuuninyou Demo Koi ga Shitai! – Kyoto Animation's entry for this season? Maybe.
Little Busters – JC STAFF entry for this season? Also maybe.
CODE:BREAKER – By the same studio that did Hanasaku Iroha and the web short Busuo Shinki on this season's docket, premise is interesting.