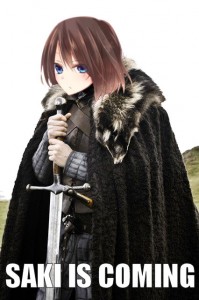 Friendly reminder, if you like female anime characters and contests involving female anime characters, Anime Saimoe Tournament 2012 is well underway on 2ch. Even if you cannot vote thanks to GLORIOUS NIPPON's hate on foreign IPs, you can keep up with the results on my blog, TLDR Saimoe or other folks covering the tournament linked on the page. It'll be going on until early November so feel free to tune in.
Now then, catching up on some of them animes…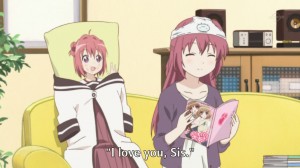 Sisters is the topic of this week's Yuru Yuri as we've been introduced to Sakurako's sisters, Himawari's sister, Chinatsu's sister, and now Akari's sister. Only Akari's sister seems to have an incredible sister-love for her younger sister, as depicted in this screen shot. I don't recall the sisters being in last season, so it's like they're introducing a new layer of the show, like when do we get a season dedicated to their daily lives?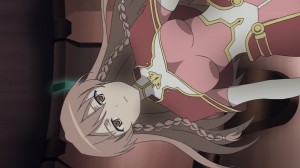 Oh Rinne no Lagrange, I'm sure everyone else besides me wondered, why didn't Madoka realize when she was in Yurikano's body, that her tits were huge? I mean you go from washboard, to balloons, how do you not notice that? Unfortunately the body-swap does not last long and we find out that she was the one on the other side of the Rin-ne tormenting Madoka, and trying to keep the two kings from fighting each other. Nevertheless, there seems to be more to this than meets the eye, and especially with Yurikano.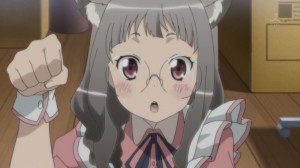 I decided to catch up on Kono Naka Imouto and oh my, why can't I hold all these cat-girls? Honestly the show is rather trite and easily skip-able in many parts, but Sagara brought it back to neutral ground with that cat girl outfit. I mean, half of the sister story is out of the bag, and it looks like the other half is to be out soon. Just choose all the girls and get your harem on.. seriously!
With a Hero King Queen and Demon King added to the cast, mice hunting seems to be on the docket for this week's Dog Days as they fill a couple more episodes until another three-way battle I imagine. This one features some "Honey I Shrunk the Kids" shenanigans as they try to contain ancient demon mice or some sort of thing like that. Honestly, I don't give two and a half fucks, love this show, whatever it does.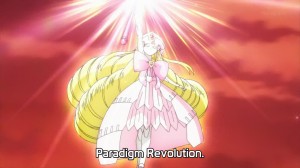 Well two episodes ago, Taku and Haru had the bastard on the ropes, then bitch face heals him, then the next two episodes have been focused on Kuroyukihime and her adventures in Brain Burst in Okinawa. I mean, good break from the action, and +10 for Kuroyukihime, but I want to see what possibly possessed stupid girl to interfere in the match and heal that smug bastard. Yeah, I was mad.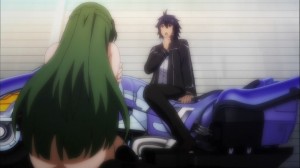 Some serious terrorist business appears in this week's Hagure Yuusha no Estetica which has our fearless vice-president saving the day naked in Akatsuki's jacket, after his new supersonic bike electrocuted her clothes off. Lack of Miu and Co. really in this episode, so all your focus will be on Haruka and her tits, or ass, or whatever, this show is always showing some girl's tits.
No Gundam AGE this week and still catching up on Joshiraku and other shows. I'll also be putting up my chart for the fall season sometime soon, the picking seem to be slim, but new Initial D? Yes please.