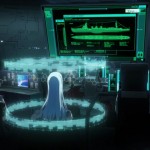 Five more shows to make your acquaintance this Fall season, Aoki Hagane no Arpeggio -Ars Nova-, Machine-Doll wa Kizutsukanai, Non Non Biyori, Galilei Donna, and the second season of Kakumaki Valvrave. With this the season officially takes off, and dear lord once again I have absorbed too much to watch. I am a sucker for mostly good animated programming.
Aoki Hagane no Arpeggio -Ars Nova-
"Why did they kick me out of the fleet? I lost at Battleship."
I always figured if Japan were to ever make an animated version of
Radar Mission
, this is exactly that, an animated version of Game B with waifus calling the shots against the enemy fleet, only instead of spending money bags on power-ups,
they are the goddamn ship.
The vidya aside, Arpeggio comes off to me as a cross between Kidou Senkan Nadesico, Space Battleship Yamato, Strike Witches, Gundam 00, and a hint of Full Metal Panic. It's the classic "misfits in charge of a battleship" story, and that's probably what will charm me the most, because Nadesico is and always will be one of my top shows in that format. Here, each ship in the "Fleet of Fog" is actually controlled by a humanoid-like girl who controls the ships functions and takes orders from its master. They all seem to take their orders from some central source, yet to be revealed, but Iona, and the I-401, seems to have sought out Chihaya Gunzou, son of an Admiral killed in the clash seven years prior, and makes him her master. His desire to see the Fleet of Fog crushed and humanity free drives him and his friends to crew the submarine as a private army and lash out against whomever stands in their way.
The only visible downside is the animation, at times, they go with CG animation for the characters which makes it look just awful in many scenes. It's not something that has ever worked well in animation, and reminded me a bit of Divergence Eve's attempts to render some of its characters in CG, which were also awful. I don't have much to say on the plot so far, I actually want to read the manga, but having read all of Shingeki, I found myself not wanting to watch the show because it wasn't doing anything to grab me. I'd rather watch the show, and then read the manga, and hope the manga wins out. Seems like a better plan than ruining my expectations again.
But based on the pure fun of naval warfare with waifus and eccentric crews, this one might be relevant to my interests all season long.
First Rating: 8
Sub Group: Horrible
Machine-Doll wa Kizutsukanai
"Does she have moving parts down there, or is it like operating a sausage grinder?"
I
quipped
that this show might be a lot like
Angelic Layer
, but that's probably not a fair comparison. Rather, it is more of a mix between that,
Saber Marionette J
, and just about any show involving magic, marionettes, or monster companions. Given that ever-loving "It's set in London and he's the ONLY JAPANESE MALE FOR MILES" plot, it also pretty much operates exactly as every other show set in Olde Timey England.
But I have to admit, when you get past the very blurred lines of the animation in this show, it does have a certain quality to it that I find appealing, probably because I wish I had a robotic waifu I can make walk my wife's dogs for me so I can be even more lazy than I already am. Or at the very least, serve as a cat magnet with the heat displacement in her ass. Real world applications of anime theory here. It's pretty obvious this is going to turn into a battle show soon, and it's probably going to follow the standard formula of him winning, winning, losing, crying, POWERING THE FUCK UP, and winning. Oh, and there is a FINAL BOSS that killed everyone and tried to rape his doll, so that's a thing as well.
I'm pretty sure I will like this, I just am not sure how.
First Rating: 8
Sub Group: Nubles (Seriously, who? Is no one else subbing this? Or did I input the wrong search field in Nyaa again?)
Kakumaki Valvrave
"Next on Mobile Suit Valvrave SEED Destiny: EARTH"
Ah yes, it's time for Space Opera Vampire SEED Destiny, and
where we left off
from last season, Akira becomes the pilot of Unit 06, Cain becomes
Grahf
, and then some fast-forward timeskip-someshit or whatever. I dunno.
So now we get the continuation of that battle, Haruto getting fucked up by Cain and the two suits touching (no really, their male/female AIs were trying to touch each other) before whatever happened and they sped off. The module reaches the Moon, everyone rejoices, Haruto starts making L-Elf run tests on him so he doesn't try to rape Saki again, yadda yadda, Shouko, some political stuff. Meh. Why did they break up the seasons again?
I get the feeling that Sunrise originally planned this to be twelve episodes, and that there was going to be a thirteenth and final episode to just end it outright. I'm guessing the positive reaction they got to their fourth or fifth re-telling of GundamXGeass spurred them to make thirteen some kinda bridge episode to the second season, but it's just… bad. Now, I lamented a lot about Valvrave in the opening and found it to be pretty good moving on, but what are we going to spin in this second half? They go to Earth? They fight on Earth? I… sigh. I know, this isn't going to get better before it gets worse, but as I said from day one, it's going to be a trainwreck. Might as well see it through.
Second Rating: 8
Sub Group: gg
Non Non Biyori
"I reckon you city-folk won't git'it."
Gin no Saji
sort of opened up the animated sphere for a series about life on the farm, but Non Non Biyori shows us what
Lucky Star
would be out in the country. The answer of course being pretty dull. Still, for what it is worth, it's comfortable and cozy like many SoL shows are, and will no doubt go over the complexities of every-day life in the middle of nowhere going to a school of five people in different grades. I've never lived in that type of environment, but many do. Good for them.
Second Rating: 7
Sub Group: Horrible
Galilei Donna
"Destruction is just a cute name for a goldfish"
So if you have waifu warships and mechanical magical girls, it makes sense that you also have mechanical
real
girls packing serious firepower into a floating goldfish fortress. History buffs will of course spooge a bit over the fact this is Galileo we're talking about, though I honestly always remember
Star Trek: Voyager's
representation of him…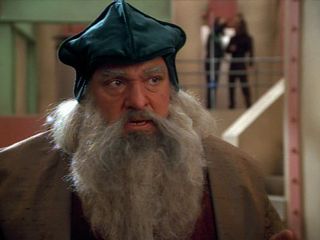 …oh wait, that was Da Vinci. Can they get John Rhys-Davies for the dub track of the father anyway?
At any rate, the animation here looks pretty nice, and plenty of detailed mechanical and explosions along with some good backgrounds of Italy. The premise seems pretty interesting, being billed as a science-meet-mystery with action and explosions, and three girls who aren't very sisterly at all. I'm almost getting a ROD:TV vibe from the show, and really, all you need now is Joker and it'd be a goddamn picnic.
Second Rating: 8
Sub Group: FFF
---
That about covers it all. Tomorrow I am going to be experimenting with some audio for a possible weekly podcast of sorts that aims to sort of verbally go over weekly shows. I'll probably just bullshit some things and talk about some random shit for the test, but lemme know what you think, if it's something cool, or not. I've never done one, but I figured it might be interesting to try.