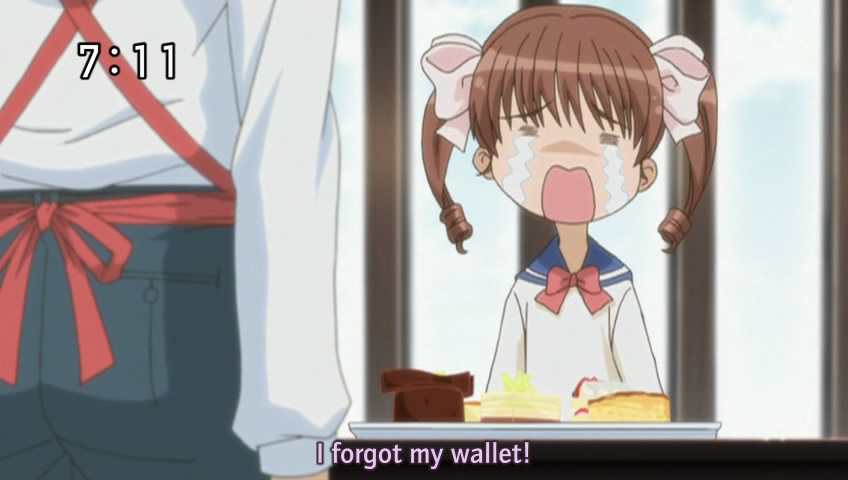 Strawberry Mint Subs thankfully decided to pick up Yumeiro Patissiere and put out the first episode some time ago, allowing me to give you a proper take on what looks to be a more "moe" version of Yakitate Japan! but with delicious cake, which may or may not be a lie.
Though the first episode doesn't really do anything besides give you the main character, Ichigo (hurr durr obviousname is obvious) and her family, the details of her late grandmother being a pastry chef and her encounter with a boy who goes to the same school for being a pastry chef as her late grandmother pretty much sets the stage for the next episode of her going to this school to become… well… a pastry chef, or the more appropriately named "patissiere".
Compared to some impressions on MAL saying this was going to be like Shugo Chara with cake, I'd kind of agree. It's got enough little things like golf club jokes and ditzy-klutzy-falls-down-the-stairs-and-loses-her-wallet kinda generic "moe" to keep it fairly interesting. The story is nothing to really note about just yet, and the fact that it is going to probably play out like every generic "goes to school" or "cooking/baking/[x] profession" anime you've ever seen.
So frankly, after all that, I'd say this is worth staying on board for. Kind of impressed I got about 5-6 good shows out of this season, especially when I pretty much took a dart and threw it on the chart.
tl;dr: It's a girl, and cake, and pastries, and cake. From a guy who briefly (and kinda still) wanted to be a pastry chef, why wouldn't this be kinda interesting to watch? Don't judge me.
Sub Group: Strawberry Mint Subs
First Rating: 6.5