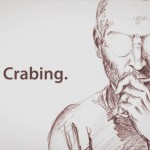 A pile more of anime to preview this week, as well as some new additions to the roster. To clarify, apparentl Auira is another short series, either that or the first episode was four minutes long. So assuming it will pan out like last season's Ai Mai Mi, I'm placing that one on the back burner and pulling two more shows up front to watch, Shingeki no Kyojin, and Suisei no Gargantia, both Production IG shows. So let's get this shit on.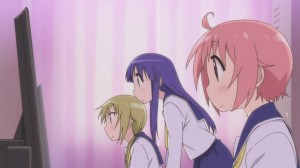 There isn't much to really write about when it comes to the fluffy entries of the season. Yuyushiki is simply cute girls doing cute things, but chances are, they will involve computers. Despite the club being called the "Data Processing Club", I don't see any data processing going on, no databases of any sort, no hardcore SELECT * FROM BOBBY_TABLES or such. The animation style mimics Hidamari Sketch, the eyes are so damn high on their face that I actually notice and think it's a bit awkward. I'm a bit surprised though, considering Kinema Citrus' last entry, CODE:BREAKER, I expected this from.. well.. anyone else really. Takes all kinds I guess.
TLDR Watch This: o_o faces, distinct preference for PostgreSQL
TLDR Don't Watch This: If you're bothered by revolutionary "no-wire" computers
Sub Group: Horrible
First Rating: 7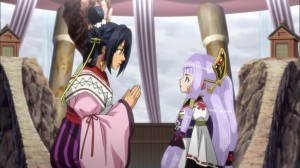 I started reading some of the manga for this a week ago, and in looking at the number of chapters and how almost everything major clicked into place pretty quickly in the first few, what do they do for the rest? Is this going to be a long, drawn out affair of back-and-forth battles and POWER UP sessions, TRAINING, and whatnot? Still, here be Arata Kangatari, the world-swapping show where two guys named Arata switch places, one from another world, one from Japan. The disappointing thing is, they're see as the originals by others around them, only they know they're switched, and that amuses me less. GOD POWER weapons, TWELVE MID-BOSSES, a near-dead princess. Sounds like we're going to have a blast.
TLDR Watch This: cross-dressing princesses, Mad Hatter Approved Anime
TLDR Don't Watch This: premonitions of BLEACH
Sub Group: Horrible
First Rating: 7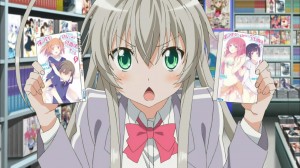 You know what is disappointing? There is a severe lack of H-Doujin for Nyaruko-san where she just rapes Mahiro. I mean, she spends a fifth of every episode talking about how she wants to bone his shit and have his kids, she is a goddamn space deity, and yet she just doesn't chain his shit and go to town. Does that make me a terrible person? Maybe. Haiyore! Nyaruko-san W is the second season of last spring's premiere of neurotic and lovable Nyaruko-san the Cuddly Cthulhu and her cohorts, Cthuko and Hasta. Together the four exhibit a strange love square while weird things happen. I wasn't that impressed with last year's debut season, but it kinda grew on me towards the end, and by the end I quite liked it. I expect this season to pretty much ride the coattails, which is fine with me.
TLDR Watch This: SPACE CQC, BEST love triangle
TLDR Don't Watch This: Every thing/word Hasta says.
Sub Group: Horrible
First Rating: 7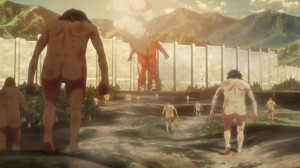 I've heard quite a bit of chatter about Shingeki no Kyojin in the last couple days, and figured it was worth checking out. Lacking knowledge of the manga, from the first episode alone, the bar is set somewhat high. Giant humans attacking tiny humans. Certainly an interesting premise. The fighters in the OP, as well as the feel of the show, kind of remind me of Claymore in a sense, although instead of supernatural powers, they seem to employ some crazy rope/chain-based devices. I've heard the pacing for this series gets a little thin after a point in the manga, but the first part is pretty good, so perhaps we'll get some good visuals at least for the first few episodes. Or just more Titans eating people. That's always fun.
TLDR Watch This: I'M GOING TO BE, THE VERY BEST, LIKE NO ONE EVER WAS (PS SORRY MOM YOU WERE EATEN)
TLDR Don't Watch This: Disgusted that the Titans can't at least brown their tiny humans before eating
Sub Group: gg
First Rating: 8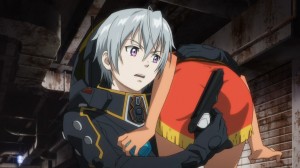 Another space-themed/mecha show of this season is Suisei no Gargantia. I hadn't panned this one initially, don't remember why, but it got mentioned a few times on the vine and I figured I'd give it a view. The opening half was okay, nothing to bat home over, though it felt like I was in Ikaruga: The Anime, like all the sudden a top-down space-shooter was going to play in my anime. Too much symmetry going on. But after the main character accidentally the wormhole and ends up on Earth of all places, he finds himself in a tanker in the middle of the ocean, surrounded by hot girls and dirty mechanics. So much for that three-hour tour, sounds like Gilligan and Skipper get some quality time on a dust ball, presuming they figure out the language.
TLDR Watch This: Butt-pats, more TITS engineers, shiny Overmans
TLDR Don't Watch This: I'M ON A BOAT~
Sub Group: Horrible
First Rating: 8
A few more premieres this weekend, namely the new Railgun season, Hentai Ouji to Warawanai Neko, and Kakumeiki Valvrave. Almost in full swing, hold on to your butts. Or your grandmas. Fucking Koopas in cars.