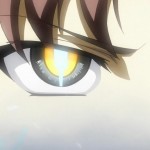 Christmas has come and gone, and it was a pretty good Christmas as always. The one thing I like about this time of the year is that once the season is out of the way, I have a couple weeks to sort of take a break from anime and do other things. There has been a lot going on this season, and plenty more to come next season and year as well. I know many might say I could stop, or watch less, but it's genuine fun to me to watch ten to fifteen shows a season and bitch about them in the internet. I do maintain a presence on Steam and play a lot of video games, but I'm not nearly in touch with that scene as I could be, as evidenced by the pile of unplayed games in my queue. If I were ten years younger and single, banging this out would be much easier, but I am not.
Anyway, a pile more shows to review, including Freezing Vibration, Machine-Doll wa Kizutsukanai, Infinite Stratos 2, Galilei Donna, and Non Non Biyori. That leaves us with one final review, Valvrave, which might have enough material for me to form a single-post review for it later in the week. Onwards!
Freezing Vibration
"Just bury me in Satella's tits and call it a day!"
This season of Freezing began and ended exactly as the manga ran this arc of the series, if only to stop halfway in and backtrack a couple chapters to the Louis mini-arc. Chiffon's sacrifice actually spanned many more chapters than the anime might've played it out as, but the central point was made well-enough. Ticy becomes a force to be reckoned with after the Alaska arc, as shit continues to fly south for the Pandora women and Limiter men.
Freezing has a quality that reminds me a lot of Claymore in many ways, another "Show of the Valkyries" so-to-speak. But the fanservice puts it more in line with Seikon no Qwaser, especially in the use of Limiters, but less sucking of tits. The quality and animation of the second season kind of puts the first to shame a bit, and especially considering the events between the show and the manga differed in the first season. My hope is that with this season wrapped up and hopefully of decent sales standing, they'll continue to animate more of the manga, because it gets into some crazy and deep shit after what has been seen so far, and I can never get enough of Satella and Rana.
Title: Freezing Vibration
Sub Group I Watched: Hiryuu
Episodes: 12
Rating (1-10): 9
Machine-Doll wa Kizutsukanai
"You're making Yaya sad. Stop that."
Story-wise, Machine Doll was a terribly large amount of fun. Perhaps the Angelic Layer within me resonated here, but the premise made for interesting television when played out. The characters also were pretty fun, between cute-as-buttons Yaya and her jealousy over everything, Char being a Char, Frey's Freys, and Henriette's inner voice, it was the unintentional comedy of the season.
But that is what did not work for me all the same. The pacing was horrid, all the jumping from action to inaction to hijinks quickly. For the lack of a better explanation, Rashin was made to be Batman, only instead of being the hero himself, he was pulled up and dusted off by an eccentric dollmaker with a penchant for booze. But his need to become Superman and save all these girls, it's like they went for the harem at the throat, under the guise of justice.
To be fair, they did not deviate that far from the manga, so this isn't solely the series fault. I read all that was on Batoto and the anime went past that, so I am not sure if that was original or I just didn't get to read those chapters. Either way, much like Arpeggio, I am of the opinion that a lot of these shows get greenlit too early, and thus they either squeeze in too much into 11-13 episodes, or cut out too much and replace it with fluff. I'd rather they wait six months or longer and then go, and pace it appropriately, especially if there will be more to make a second season from.
But what do I know about making anime?
Title: Machine-Doll wa Kizutsukanai
Sub Group I Watched: FFF
Episodes: 12
Rating (1-10): 8
Galilei Donna
"Galileo invented time-travel. Inform The Doctor."
The show started out really well, opening us to this steampunk-style world of floating ships in scenic, old-world-like Europe, but each episode just slid into an abyss while everyone on the ship herp-derped their way through this silly adventure. It wasn't completely horrid, but the ending simply confused me. As I understand, the necklace allowed her to fall into this other world, or back in time, or whatever, meet the man who she came from, and help him build an airplane, so she can discover the sketches he made later on, and realize it was her? I mean, the corporate thuggery reminiscent of SHIN-RA from FF7 was a nice touch, but that's what I got from this show, FF7 without Sephiroth. Which actually, wouldn't be that bad. I know fangirls still unload the
contents of their boxes
to ol' Seppie-poo, but he was the single worst character and story element of that game. I always felt it would have been far more interesting without him, where we would really get to explore the depths of socialism. I mean, FF7
is
Venezuela: The Game, right?
You're welcome.
Title: Galilei Donna
Sub Group I Watched: Horrible
Episodes: 11
Rating (1-10): 7
Infinite Stratos 2
"I ran out of jelly."
I've probably minced enough words about this show all season, making anything I say now to be completely redundant. So I will only comment about the final episode.
OH MY GOD, REAL FUCKING ROBOT ACTION
I mean, seriously, the show is about kids piloting robot suits in a school, and it's pretty much the first and only time we see actual combat lasting longer than five minutes, and in a setting where they aren't in mock combats. The rest of the time, we're forced to watch Ichika bumbled his way around a bunch of girls after his cock, while his sister continues to probably withhold everything about why he can pilot an IS, why everyone wants his cock, and why Madoka is a person. So you know, two seasons, and we still know shit for nothing about anything.
Title: Infinite Stratos 2
Sub Group I Watched: Horrible
Episodes: 12
Rating (1-10): 6
Non Non Biyori
"Simple stokes for simple blokes"
There isn't much to say about Non Non Biyori above what has been said before, so this will be brief also. It's a quiet little show that quietly seeps into your brain and makes you feel warm inside for twenty minutes when you'd otherwise be reminding yourself that you live on this dust ball of a planet with six billion other pretentious little fuckers all wanting their own piece of the pie. Put that into perspective and smoke it.
But seriously though, that Hotarun.
Title: Non Non Biyori
Sub Group I Watched: Horrible
Episodes: 12
Rating (1-10): 8