This season is turning out some real gems to watch, more than the past couple, even with titans like Index and Railgun. Without further mincing of words, I'll start with the new stuff: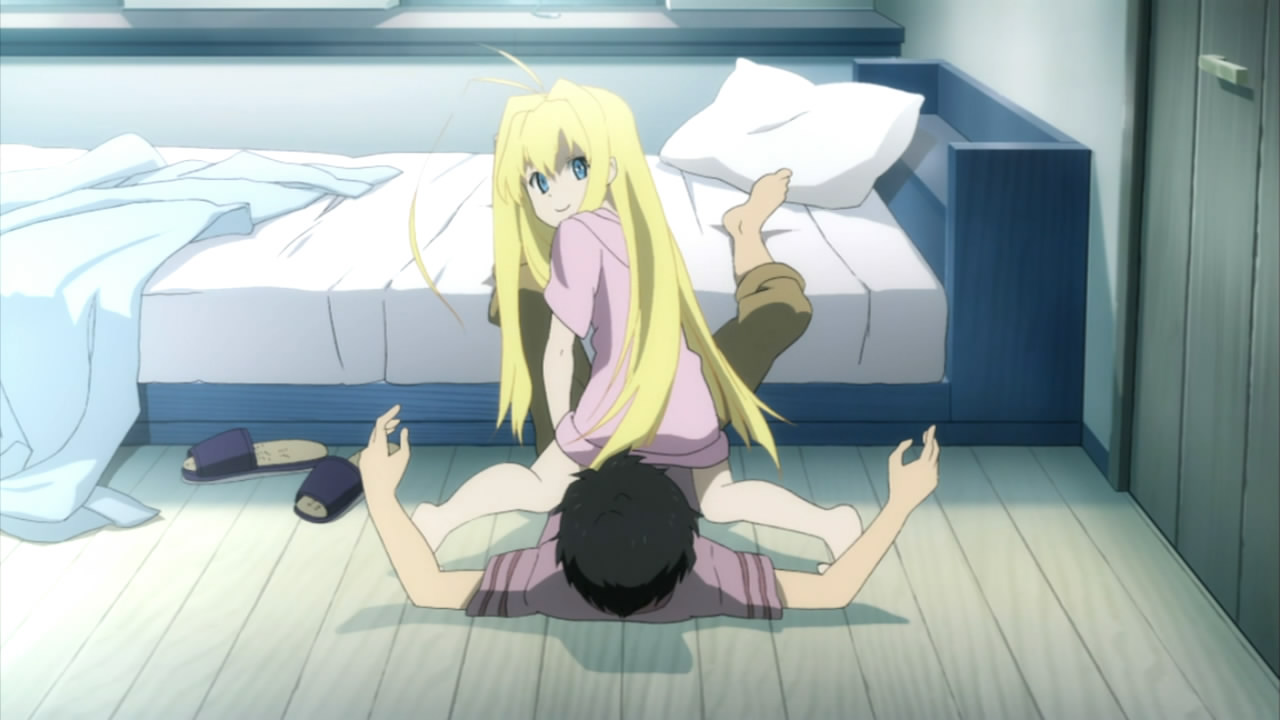 Dragon Crisis is actually one I did not have on my roster but noticed on /a/ in several threads. From watch, it looks like we have another KugiRie tsundere character who is more dere than tsun, but pretty much latches on to the main MC and won't stop saying his name. Oh, and she also is a dragon. So welcome to ShanaxLouisexTaigaxEverything with dragons or someshit. Go onnnnnn~
TLDR Watch This: Rose = Kugimiya Rie, tsunderes, DRAGONS, and likely fanservices
TLDR Don't Watch This: Rose = Kugimiya Rie, tsunderes, DRAGONS, and likely fanservices aren't DEEP enough for you
Sub Group: HorribleSubs
First Rating: 8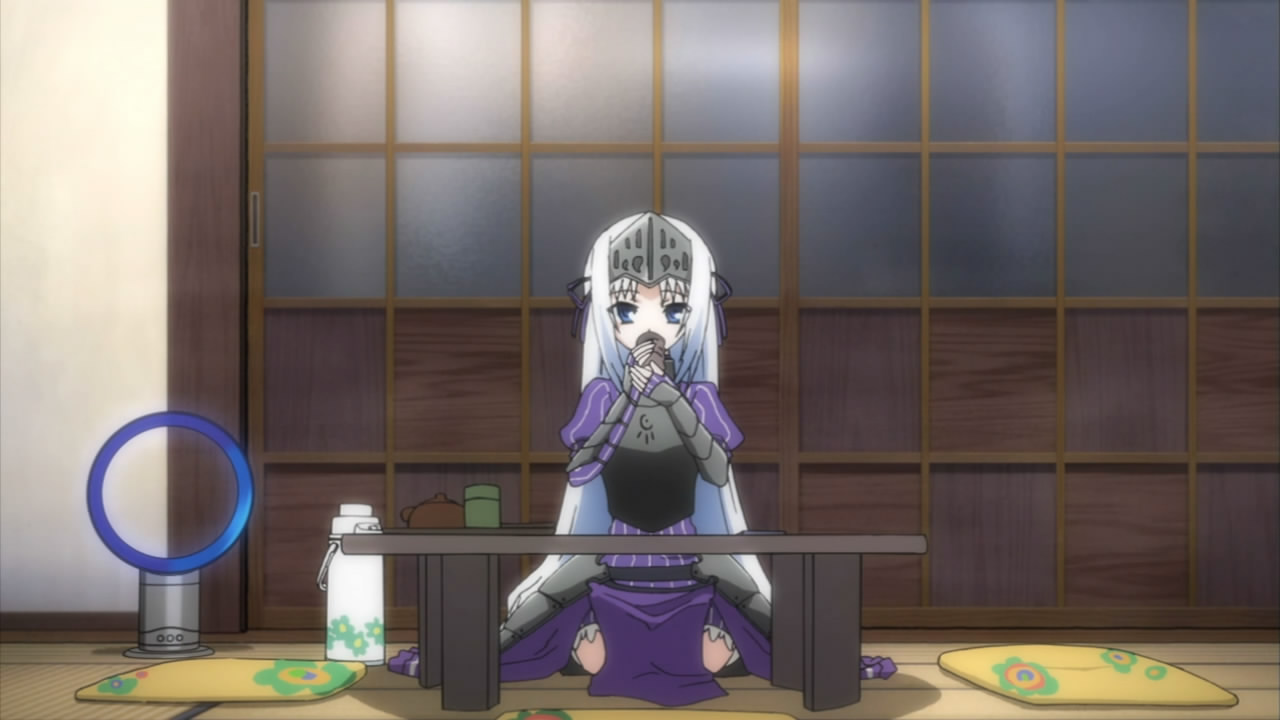 Kore wa Zombie as it will be known here as, paints the fantastic everyday life of a dead kid resurrected as a zombie by a Necromancer who camps his house all day wanting food. Hey wait, this is like Index, amirite? BUT WAIT, BILLY MAYS WILL DOUBLE THAT OFFER BY THROWING IN A CRAZY MAGICAL GIRL WITH A CHAINSAW, WHO TAKES HER CLOTHES OFF FOR FREE! YOU CAN'T BEAT A FUCKING DEAL LIKE THAT, AND THEN THERE ARE MONSTERS, AND TRANSFORMATIONS, AND CROSS-DRESSING, AND WARFAGARHBLFAHKDHASKFUWISKFBSUSKK~~~~~
No seriously, it's all about a Dyson Bladeless Fan and how you, the weeaboo sucker, need to go out and buy one of these RIGHT THE FUCK NOW. Only 300 dollars, that's PENNIES compared to having a real girlfriend. Stay classy, Japan.
TLDR Watch This: If you are going to buy that fan RIGHT THE FUCK NOW. Come on Dyson, where is my tip for plugging this INSANE FUCKING FAN to weeaboos and people who find their way to my blog from Panty and Stocking google searches?
TLDR Don't Watch This: Why the fuck would you NOT watch this? IT'S GOT A FUCKING DYSON FAN. FUCK MAN. DYSON.
Sub Group: HorribleSubs
First Rating: 8
Fractale looks to be a very interesting series, opening with a boy living by himself with doppleganger parents in a town with few people who have to pray to something daily while they collect old advanced technology. A girl on a flying machine and another girl with The Blues Brothers chasing after in a rocket-powered balloon whiz by and set off a chain of events that ends in another weird girl coming out of a computer. It kind of reminds me of something like .hack//SIGN meets something else, but I'm interested to see where it goes.
TLDR Watch This: If you are a DEEPfag, because that's where this is going I think
TLDR Don't Watch This: I dunno, you don't like this sorta shit?
Sub Group: HorribleSubs
First Rating: 7
And now for a recap of currently airing shit, in no particular order: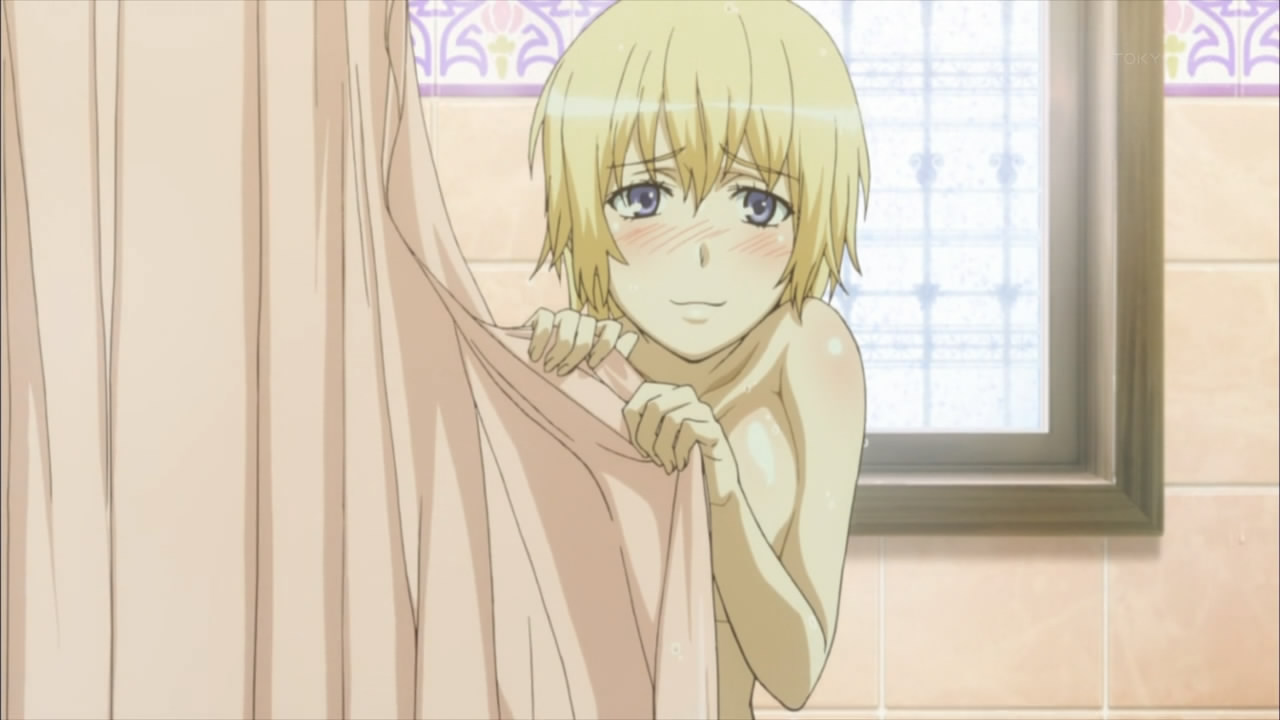 Index 13-14 I forgot to watch last week's, and really I could have skipped most of the damn thing. It was pretty much ten minutes of Touma TL;DR WHY AM I STILL TALKING WHEN I SHOULD BE BREAKING YOUR GODDAMN ILLUSION RIGHT ABOUT NOW and some other shit. 14 however was full of delicious cute naked Orsola and then some GODDAMN ICE SHIPS coming out of fucking nowhere. I'm starting to lose track of Index, is this all really following the novels? I kinda want to read them on my new Sony eReader, but need to find translated…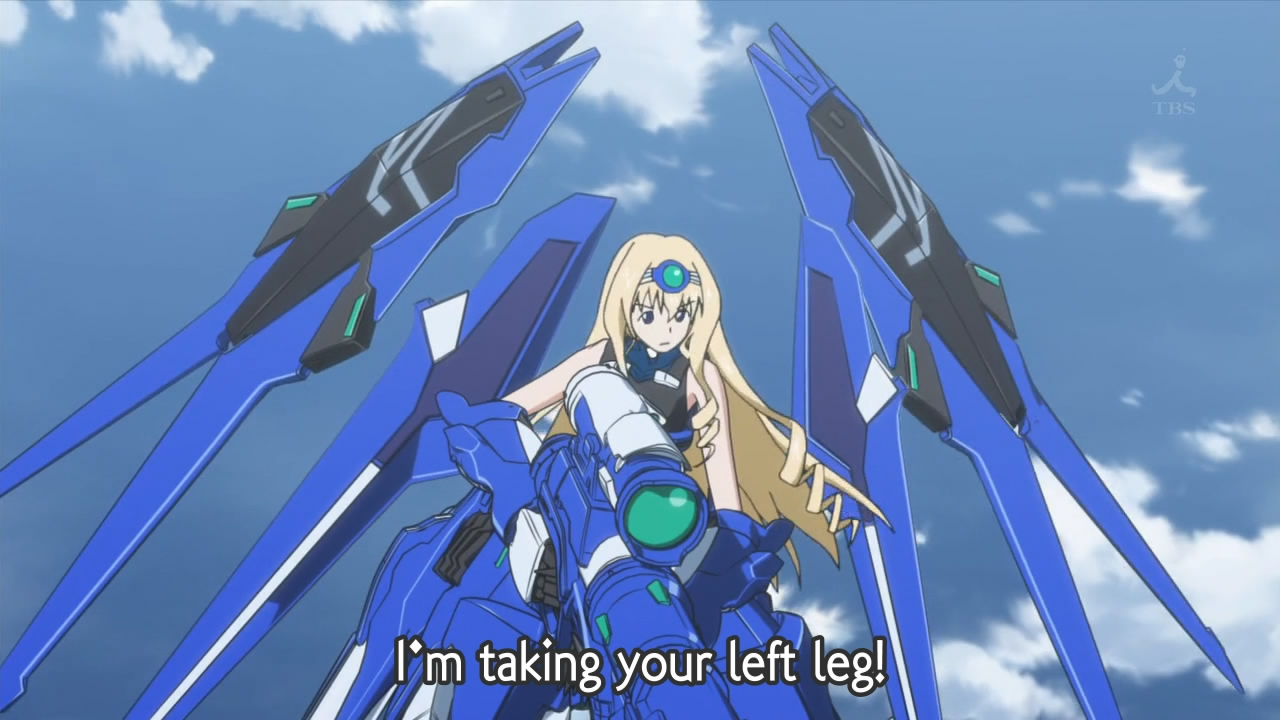 Infinite Stratos 02, this is becoming my favorite series this season, edging slightly out over Madoka. It's a lot like Strike Witches but adds that "Academy Class" flair to it, which makes it resemble Gunparade March, Starship Girls, or something of that nature. The IS units themselves are like Gundams with people, and Cecilia's sniper and funnels, fuck man, my body was totally not ready for that, and I was watching it at work during lunch and my fucking co-workers kept trying to bug me about some customer to which I replied "NOT NOW, FUCKING ROBOTS, FUCK". Can't a guy get some hot robot action during his lunch break? You'd think that'd be a fucking crime, shit.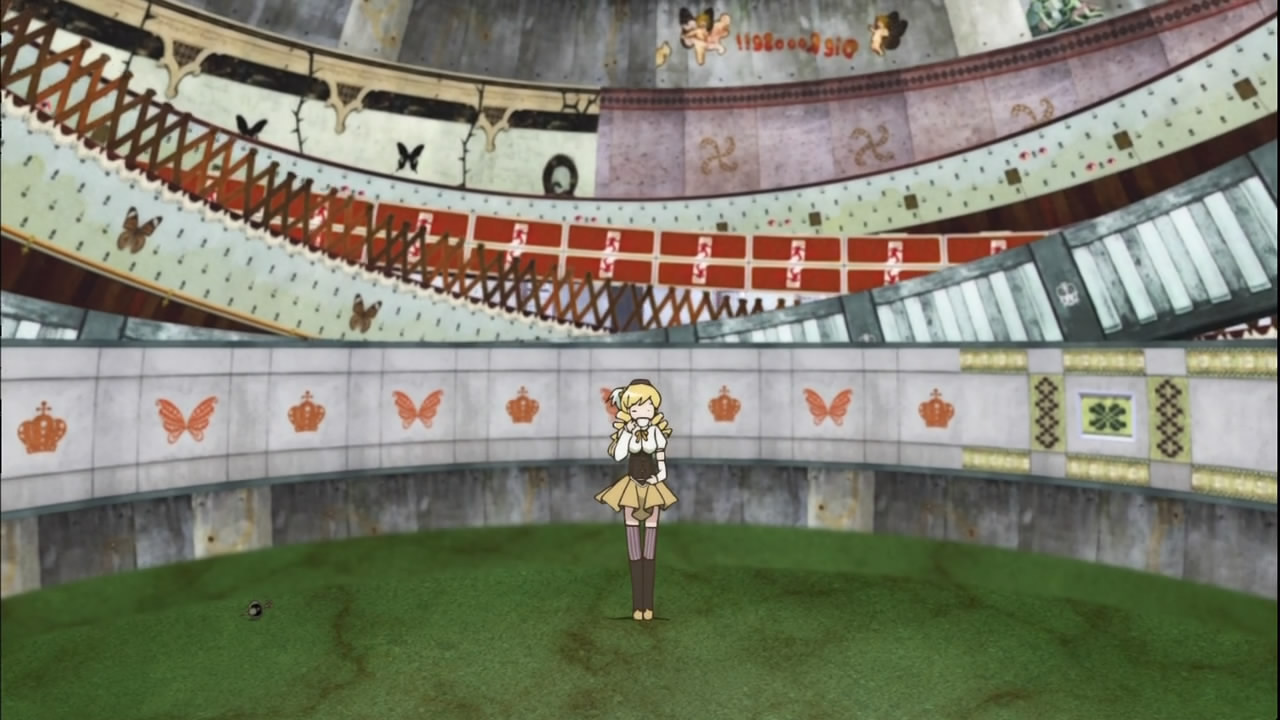 Madoka 02 continues to paint a picture of what happens when SHAFT decides to do a magical girl series, they do it with fucking CLASS…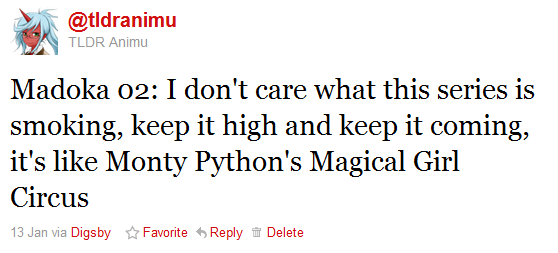 That's all I really need to say. Also, follow me on Twitter you lazy fucks, so I continue to drop these wonderful bits of wisdom from time to time.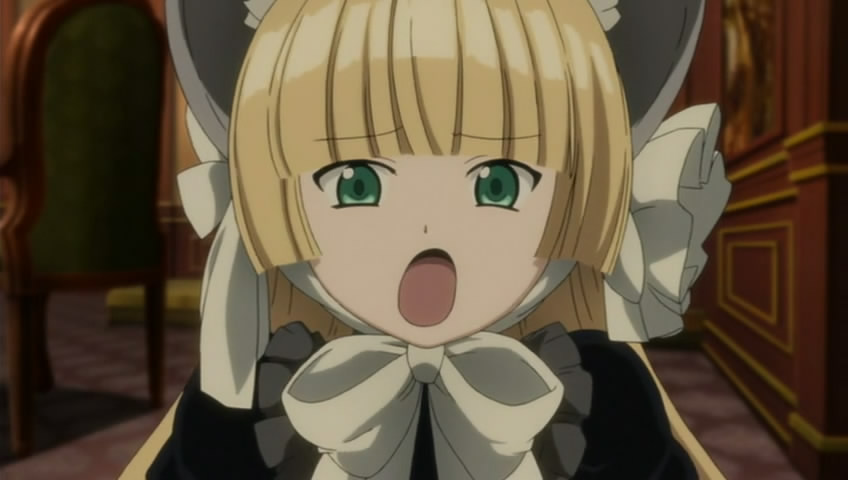 GOSICK 02
IS ON A BOAT MOTHERFUCKERS
SOLVAN A MYSTERY
ELEVEN-NO-TWELVE
CAUGHT IN HISTORY
FREAKED THE FUCK OUT
ITS A TRAP
SHOT IN THE HEAD
OH SNAP
GET TO THE LIFEBOAT AND WHAT YOU SEE
STORM AND SOME WAVES
OH EM GEE
DEAD MOTHERFUCKERS NO ONE SAVES
SHE BREAKS OUT HER PIPE
KNOWS THE CODE
LITTLE TYKE KNOWS WHATS RIGHT
OH HO HO
THROUGH THE HALLS WITH FRIGHT
SINKING FAST
OLD MAN SETS HIS SIGHTS
TWISTED AT LAST
KUJO STEPS TO THE PLATE
ARMS OUT WIDE
ACCEPTAN HIS FATE
TO BE CONTINUED
we don't want zombies on the lawn